Hong, O'Farrell Win NBCC Awards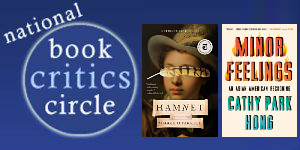 The 2021 National Book Critics Circle Awards, this year's first major multi-category literary prize ceremony, was held virtually Thursday night, March 25, with Penguin Random House authors voted honors in two of the six genres.
Our National Book Critics Circle Award Winners:
Fiction
HAMNET by Maggie O'Farrell (Knopf)
Autobiography
MINOR FEELINGS: An Asian American Reckoning by Cathy Park Hong (One World)
Published in Canada:
Fiction: Maggie O'Farrell, Hamnet, (Knopf Canada)
The John Leonard Prize: Raven Leilani, Luster (Bond Street Books)
Distributed in Canada:
Autobiography: Cathy Park Hong, Minor Feelings: An Asian American Reckoning (One World)
Founded in 1974, the NBCC now comprises more than 1,000 working critics and book-review editors throughout the country, who annually vote and bestow its awards in six categories, honoring the best books published in the past year in the United States.
Congratulations: to Ms. Hong, her editors, Victory Matsui and Chris Jackson, and the entire One World team; and to Ms. O'Farrell, her editor Jordan Pavlin, and the entire Alfred A. Knopf team. We also salute our multi-category 2021 NBCC finalists and their publishers.
To view all of the NBCC Awards winners and finalists, click here.
Posted: March 26, 2021