Honoring Bill Whitehead, 70s-80s Dutton Champion of Vanguard LGBTQ+ Authors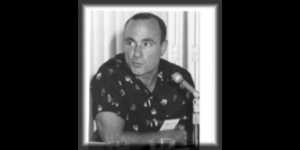 This Pride Month, we recognize an historic E. P. Dutton colleague on the 35th anniversary of his death: Bill Whitehead, its mid-seventies-to-mid-eighties trailblazing editor-in-chief, who was a welcoming beacon and a nurturing supporter to a generation of post-Stonewall-era authors who identified as gay.
Mr. Whitehead joined Dutton from Doubleday in 1974. He is remembered for his clever and stylish literary sensibility, which encouraged such publications as the classic "The Tao of Pooh," and the start-up of the Obelisk trade paperback imprint, reprinter of out-of-reach books by well-known authors. He made his mark in the international literary community by signing and editing queer writers for Dutton, when few mainstream publishers would acquire their work.
Edmund White and Robert Ferro, who were among a group of gay male writers who authored many seminal works of literature, were authors on his list.
In 1985, he received the Carey-Thomas Award for distinguished publishing, spending his final two working years, at Macmillan.
We lost him at 44. His New York Times obituary, on October 10, 1987, reported he "died of complications arising from acquired immune deficiency syndrome," a detail he is said to have insisted be included, making him one of the first whose passing was attributed by the Times to AIDS.
In a lengthy appreciation of Mr. Whitehead in its December 18, 1987 issue, Publishers Weekly quoted his author, Edmund White: "He sought ingenious ways to preserve and renew the artistic side of publishing. The industry will suffer in a material way from his loss, just as in a spiritual way his shocked colleagues and authors are already grieving."
In 1989, the Publishing Triangle debuted The Bill Whitehead Award for Lifetime Achievement, annually honoring writers in the LGBTQ+ community. It has been bestowed continuously since then, to a woman in even-numbered years; a man in odd-numbered, such as: Adrienne Rich (1990); Samuel R. Delany (1993); Armistead Maupin (1997); Alison Bechdel (1990); Cherrie Moraga (2022). Click here for a complete list of Award winners.
Bill Whitehead (1943-1987):
Honoring His Indelible Dutton Legacy
Posted: June 6, 2022