How Amy Klein's THE TRYING GAME Can Help Anyone on the Fertility Journey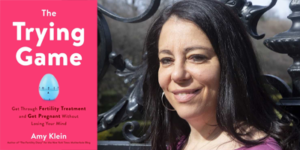 Author Amy Klein has written a comprehensive guide "for anyone – single, coupled, gay, straight, transgender — experiencing fertility trouble." THE TRYING GAME: Get Through Fertility Treatment and Get Pregnant Without Losing Your Mind, published by Ballantine Books, is empowering, compassionate, and down-to-earth, showing interested readers what to expect when they're not expecting, with heart and humanity when they need it the most.
In this Behind the Pages Igloo interview, Klein talks about what inspired her to transform her on experiences with infertility into a book; the process of researching, writing, and working with her editor; and what elements she thinks will resonate most strongly with readers.
What inspired you to transform your own experiences with trying to get pregnant into a book?
I started writing about my infertility journey for The New York Times in a column called "Fertility Diary," because at the time, in 2012, nobody was talking or writing about infertility publicly. My editor and I thought that it would quickly turn into a column about my pregnancy, but it took me another three years and some 30 columns to finally get and stay pregnant. I always thought if I finally had a baby, I would write a memoir, but by the time I finally came up for air after having a baby, a LOT of information on infertility had become available and the conversation around infertility had become more mainstream. I realized that this story was bigger than my own story. People were writing to me with questions about their own infertility journeys, and I wanted to help people with these questions – and I wanted to help them avoid making the mistakes I made. I wanted to write a comprehensive guide for anyone –single, coupled, gay, straight, transgender — experiencing fertility trouble. I thought that if I could help other people, maybe it would make my long journey worth it.
How would you describe the process of researching, writing, and working with your editor?
As a journalist, I'm used to research, for sure, but researching a WHOLE book was really daunting. I ended up over-researching everything, and lots of material ended up being cut. My editor, Sara Weiss at Ballantine, had a lot of faith in me, and knowing that I had someone supportive and rooting for me made the process a whole lot easier. And the thing is, she was exactly the target audience for this book – interested in the subject matter, but not an expert — so she was able to ask the right questions and tell me when to be clearer and go deeper. Truthfully, the editing process was the best part.
What elements of THE TRYING GAME do you think will resonate most strongly with readers?
I think this book is a great primer for anyone who might be thinking about getting pregnant and worried about their own fertility. I hope it will help ease any feelings of panic or overwhelm. And for people who are already in the thick of infertility treatment, I think the chapters that deal with the emotional challenges will really resonate: how to deal with regrets, how to cope with baby envy, how to maintain partnerships and other relationships. Those are the chapters I'm most proud of. Because, look, the technology is changing every minute, but the emotions people go through will stay largely the same. I hope this book helps people feel less alone.
Posted: April 29, 2020