HOW DEMOCRACIES DIE Wins 2019 Goldsmith Book Prize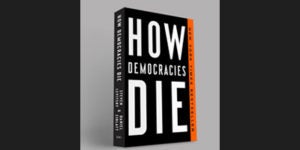 HOW DEMOCRACIES DIE by Steven Levitsky and Daniel Ziblatt, published by Crown, Broadway, and Random House Audio, has been selected as the trade category winner of the 2019 Goldsmith Book Prize, awarded to the trade and academic books published in the United States in the last 24 months that best fulfill the objective of improving democratic governance through an examination of the intersection between the media, politics and public policy. The prize is judged by faculty members affiliated with Harvard's Shorenstein Center on Media, Politics and Public Policy.
Levitsky and Ziblatt will be presented with their Goldsmith Book Prize at a special ceremony at Harvard's Kennedy School of Government's JFK Jr. Forum in Cambridge, MA on Tuesday, March 12. As the winning authors, they will share a cash prize of $5,000.
Posted: February 14, 2019