How Dutton's Lindsey Rose Helps Her Authors Achieve Their Visions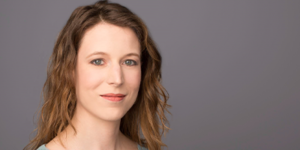 Since joining Penguin Random House in January 2019, Dutton Executive Editor Lindsey Rose has worked with a diverse range of authors, including Abi Daré, whose powerful voice-driven Nigeria-set debut THE GIRL WITH THE LOUDING VOICE became an instant New York Times bestseller and #ReadWithJenna Today Show book club pick. Among Rose's other authors and their books: Andrew Hunter Murray's near-future thriller The Last Day; S.K Barnett's twisty psychological suspense novel Safe; Ros Anderson's deeply thoughtful feminist novel about the rise of artificial intelligence, The Hierarchies; David Klass's fast-paced eco-thriller Out of Time; and #1 internationally bestselling author Tara Moss's glamorous post-WWII historical novel The War Widow.
In this Three Questions for an Editor interview, Lindsey details the scope of her editorial approach, delves into the process of working with debut novelist Abi Daré, and shares why Dutton is best publishing home to ply her editorial trade.
How would you describe your approach as an editor – from finding, acquiring and developing authors, to working with them to make their manuscripts the very best books they can be?
My favorite thing about acquiring fiction is that it constantly surprises you. An agent might pitch you a project that sounds completely crazy—but then once you actually read the pages, it turns out to be the best thing you've ever read. Just from the pitches alone, I'd never have guessed that I'd fall in love with a thriller where a terrorist is presented as the good guy (David Klass's Out of Time, which we'll publish this July) or a futuristic literary novel told entirely from the point of view of a robot (Ros Anderson's The Hierarchies, coming this August). But if I had to pick one characteristic that unites the books on my list, I'd say that I'm always looking to find books that inspire conversation. And I'm often drawn to voice-driven novels with emotionally complex and vividly drawn characters.
As far as the editorial work, each book is so different that I really try to tailor my approach to speak to what each one needs. With THE GIRL WITH THE LOUDING VOICE, for example, Abi had already completely nailed the characters with her first draft. Especially Adunni, who I can honestly say is one of the most memorable protagonists I've ever encountered. So what Abi and I worked on primarily, in collaboration with her UK editor, Emma Herdman, was enhancing the plot momentum—going through every scene with a fine tooth comb to make sure that each one moved the narrative forward, and paring away anything that didn't.
I view my role as an editor as helping an author achieve their vision for the book, rather than imposing my own. At the end of the day, after all, it's their name on the cover, not mine! And I try to work with each author in the way that works best for them: for some writers, that means writing detailed editorial letters and providing extensive manuscript notes. Other authors might prefer to have a series of long phone calls instead, where we really get to hash things out together and decide on a course of action collaboratively. Some writers like to get my feedback on every new plot point or scene as they go along with the revision, while others prefer to go off and write a whole new draft, then have me read it all at once. I try to be completely open to whichever approach a particular writer prefers!
What are some of the qualities that attracted you to Abi Daré and her debut THE GIRL WITH THE LOUDING VOICE?
I knew THE GIRL WITH THE LOUDING VOICE was special from the very first page. The voice that Abi crafted for her protagonist, Adunni—who is a young girl growing up in a small village in Nigeria—is just so distinctive and powerful. It's like nothing I'd ever read before. Adunni was forced to stop attending school after only a few years, following her mother's death, because her family couldn't afford the school fees any longer. So she has only a partial grasp of English, but despite (or perhaps even because of) her imperfect grammar, her way of describing her world is both utterly unique and incredibly perceptive, and it just blew me away.
Adunni's father views her primarily as a commodity that can be sold to produce income for him and for her male siblings, rather than as a person who might have hopes and dreams of her own. Without consulting her, he sells her to be the third wife of a much older man in the village, a fate that Adunni dreads more than anything. But despite this first of many seemingly insurmountable obstacles Adunni encounters throughout the course of the book, she never loses hope, and never loses sight of her own dream for her future: going back to school to finish her education so that she can eventually become a teacher, and help other young girls like herself achieve their own dreams. And I think above all, what drew me to this book was Adunni's amazing strength and perseverance, and her determination to pursue her own path despite the crushing odds against her. This has been the overwhelming response we've heard from readers, too: that Adunni's story is just so incredibly inspiring.
Though THE GIRL WITH THE LOUDING VOICE is fiction, it is very much rooted in the real experiences of many young girls growing up in Nigeria. The author, Abi Daré, grew up in Nigeria herself and witnessed firsthand the way that many young girls were sold as child brides or sent to work as unpaid housemaids to wealthy families in the cities. I think what struck me most about this book is how clearly Adduni's story rings of truth, even though it's fiction: it's immediately apparent that this world is one that Abi knows intimately, and I am in awe of how forcefully she brings it to vivid life on the page. Abi says that she was inspired to write this novel because she hoped to add her voice to the global conversation about the treatment of these girls and women. And I love that this book is both an exquisitely written, harrowing coming-of-age story, and also one that will bring awareness to the plight of many girls and women, and continue a conversation that I hope might eventually lead to positive change.
Why is Dutton the best publishing home for you to ply your editorial trade?
I think Dutton is a truly exceptional place to publish books. Our imprint only publishes about fifty books a year – half fiction and half nonfiction – which means that we get to be quite selective about which books we take on. As someone who's only recently joined Dutton, it's been amazing to watch the way that the whole team really rallies around every book, giving each one a huge marketing and publicity push that's meticulously tailored to fit that book's strengths.
And I think our success speaks for itself. As an editor, it's been an absolute dream come true to join Dutton and watch our phenomenally talented marketers and publicists make The Girl With the Louding Voice—which is my first book to be published here—into such an incredible success: an instant New York Times bestseller, a #ReadWithJenna Today Show book club pick, an Indie Next pick, a rave review and a featured author profile in the New York Times Book Review. I couldn't imagine a better publishing home for this book, or for myself!
Posted: March 11, 2020