How Francesco Sedita Transformed the "Who Was?" Bestselling Books into a Hit Netflix Series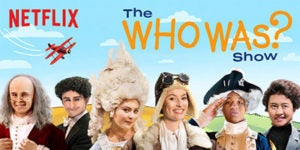 Francesco Sedita, President & Publisher of Penguin Workshop, was a featured speaker at Bertelsmann's 2018 Venice Summit earlier this month. He wowed attendees when he talked about the creation The Who Was? Show Netflix series, based on the #1 New York Times bestselling Who Was? book series. Thirteen episodes of The Who Was? Show have aired on Netflix since the series premiered in May and helped propel the Who Was? books to the top of the New York Times children's series bestseller list for the first time.
In this "From Page to Screen" Igloo interview, Sedita provides insights into the genesis and production of The Who Was? Show Netflix series as well as the project's most rewarding aspects and a look to the future.
How did you come up with the idea for the creation of a TV series based on the bestselling "Who Was?" books?
This was an organic idea, really. The WhoHQ series (which includes Who Was? What Was? and Where Is?) and the growth of the series was so wonderful to watch and I knew there was more that we could do creatively. So I thought and thought, picked a few colleagues' brains, especially Lori Burke, Marlene Glazer, and Jen Loja, and then we got to quick work once we realized that we could make a television show with our own resources.
What has been involved in producing the Netflix series and why do you think it has been so popular?
We knew we could make a Who Was? television show because the content is so rich and with a comedic spin on it – I was sure that kids would respond. But then it was like, wait, can WE really make a TV show? And the answer was yes, I could just feel it. I had been a writing intern many years ago at SNL so I know a bit about creating sketch comedy, and then I called in some big guns—two amazing friends from NYU whom I'd made many creative projects with over the years.
The popularity is all because of the comedy—it's funny to think of these famous historical people as …. well, people. And so much of the show is all factually based so it's a riot to watch. And our cast is brilliant!
What have been the most rewarding aspects of this project?
I think hearing from friends who have children about how much they love it—and seeing so many great, positive, happy posts on social media. Giada De Laurentiis even posted about the show!
Where does it go from here, particularly in the context of Penguin Workshop?
Watch out Aaron Sorkin, there's a new kid in town. No, I think it means that we are just at the beginning of our creative expression here at Workshop. That's what I want us to be—thinkers in every content category imaginable. I'm so proud of the group effort that made The Who Was? Show and I'm excited for more to come! Stay tuned. (I couldn't resist.)
Posted: September 27, 2018