How Jim Zub and TSP Launched the New Dungeons & Dragons "Young Adventurer's Guide" Series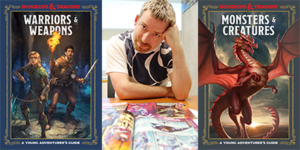 When Dungeons & Dragons was introduced in 1974, it marked the beginning of a new era of role-playing games, with an inventive mix of adventure, strategy, multi-dimensional characters, and epic tales. Here in 2019, Ten Speed Press has responded to the ever-growing enthusiasm for Dungeons & Dragons, across all age groups, with a new "Young Adventurer's Guide" series by Jim Zub. These illustrated primers, including WARRIORS & WEAPONS and MONSTERS & CREATURES, offer insights into the many characters you can play in D&D, along with their essential weapons and adventuring tools, as well as beasts and monsters. These books are the perfect entry points for young fans of fantasy eager to become D&D adventurers.
In this "Behind the Pages" Igloo Interview, Zub talks about what sparked the creation of the Dungeons & Dragons "A Young Adventurer's Guide" series, the process of putting these books together, and how he geared the content, text and design for middle-grade readers.
What was the genesis of the creation of the Dungeons & Dragons "A Young Adventurer's Guide" books?
When I was at the Wizards of the Coast office in late 2017 consulting on a D&D adventure called "Descent Into Avernus", we talked a lot about 8-year old Zub and the elements of D&D and role-playing that ignited my imagination at that crucial age. That discussion would come up again a few months later when they introduced me to Aaron Wehner, an editor from Ten Speed Press and plans started to slowly develop around a series that could engage new players without overwhelming them with game terminologies or rules.
That "D&D Guide" concept struck a chord with all of us who helped brainstorm material on it. We wanted to focus the key elements of what D&D is and show young readers (or new players of any age) the amazing ingredients they can use to create their own characters and heroic stories.
Dungeons & Dragons was absolutely formative to me. I wouldn't be as close to my older brother and wouldn't be a writer or teacher without the skills it taught to me. Getting the chance to bring that full circle and architect a line of books that ignites the imagination for a new generation of players is an absolute honor.
How did you determine a content format – with instructions, character selections, illustrations, etc. — and put it all together?
Right from the start I wanted to make sure that we weren't just repurposing existing material in the D&D Starter Set or Player's Handbook. These books do not replace D&D rules books. They're rules-free illustrated guides to the core concepts of D&D, built so a reader can discover the creative ingredients and lore without being overwhelmed by the rules.
At every stage, these books have been built to encourage narrative and offer choices – open-ended questions, encounters that end with adventuring prompts, and flow charts that allow the reader to pick their path and build something they're excited about.
As experienced Dungeon Masters or players, it's easy to forget how intimidating tabletop RPGs can be for people who haven't played before. These guides lay out the major concepts (class, race, equipment, creatures) in a way anyone can understand and encourages them to create their own stories. Readers can use the material in these books to brainstorm a character and imagine their role in an adventuring party. Our goal is to get readers excited about the possibilities, and then bring them to the gaming table to show them how those initial ideas can really flourish with a roll of the dice.
Who will be the primary audience for these Dungeons & Dragons guides, and why is D&D so popular across age groups?
The D&D Young Adventurer's Guide series is built from the ground up for middle-grade readers (ages 8-12) in both its design (book trim size, font size, etc.) and vocabulary. Older readers can certainly get something out of them, but the core of it was built to inspire young players and give them an easy way to discover the magic of D&D.
Dungeons & Dragons and other role-playing games are an imaginative and fun way to collaborate with friends and family. It's part storytelling, part board game, and all interactive in a way that's both familiar and also completely unique.
In our day-to-day lives it's rare that we get to be the center of attention and make dramatic sweeping decisions that affect us. In the worlds of D&D, you get to be an adventurer and the story is yours to build and enjoy any way you like. D&D is incredibly empowering and, with the right group, it can build memories that last a lifetime. That's the kind of entertainment that's not limited to one age group or demographic. Everyone wants to be a hero.
Posted: July 26, 2019