How Mystery Master Tana French Turned the Life of a "Lucky Man" Inside Out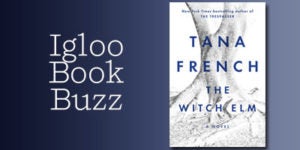 Devoted readers of Tana French's award-winning, bestselling "Dublin Murder Squad" novels, including THE TRESPASSER, THE SECRET PLACE and IN THE WOODS, will be mesmerized by THE WITCH ELM, her new spellbinding standalone mystery, published by Viking on Tuesday, October 9. This week's Igloo Book Buzz selection has been called "Tana French's best and most intricately nuanced novel yet. . . Get ready for the whiplash brought on by its final twists and turns." –The New York Times
French shares her thoughts about the origins of THE WITCH ELM: "I felt like I'd taken the Murder Squad as far as I could, at least for now. I never want to get caught in the trap of writing the same book over and over – and I think if you're writing in the same genre, where the basic framework is fairly fixed, it's dangerously easy to do. I wanted to try something different.
"I'd been thinking a lot about luck and empathy – how being lucky can impair our ability to empathize with people who haven't been lucky in the same ways, because their experience is so outside our frame of reference that it doesn't feel real to us. I wondered: what about someone who had been lucky his whole life, in every way? A good person, not cruel or selfish or a jerk, but someone who'd always been on the right side of every coin-flip: white, male, straight, physically and mentally healthy, from a stable well-off family, loved, intelligent, good-looking, likeable, the whole lot. What would that do to his ability to empathize, to accept other people's experiences as real? And then what would happen if his luck, and his reality, changed?
"Around that time, my brother sent me a link to the story of Bella in the Wych Elm, an unidentified woman whose skeleton was found in a hollow tree in England in 1943. Somehow the two things clicked together for me, and I ended up with a book about a young guy who's been lucky all his life – right up until he isn't any more, and a skull turns up in a tree in his family's garden."
Viking Vice President, Editor-in-Chief Andrea Schulz, French's editor, says, "She sets a high bar for herself with every book, and somehow gets better with every one. THE WITCH ELM is her best yet: She has taken all the elements of a detective novel and turned them inside out in this story that asks you to question all your assumptions about what makes a victim and what is a crime."
New York Times book reviewer Janet Maslin wrote a fabulous review in the October 8 NYT daily edition and Stephen King is reviewing THE WITCH ELM on the front page of The New York Times Book Review this Sunday, October 14.
Posted: October 10, 2018