How Nancy Naigle Turned Personal Loss Into a Story of Enduring Gifts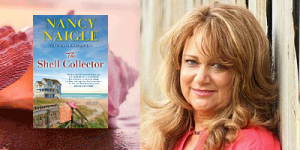 Nancy Naigle's THE SHELL COLLECTOR, published by WaterBrook, celebrates the value of friendship across generations, and lessons on how thoughtful gifts can change a life for good. Becky Nesbitt, Executive Editor, WaterBrook and Convergent, shares, "I knew The Shell Collector was special the minute I read the proposal for it. The story was born out of loss and pain, but the message is so beautiful: that even the smallest, unexpected gifts—a text, a thoughtful note, a heart's connection with a new friend—can have a profound impact on someone's life. Due to how personal this story was for her, Nancy waited some time before penning it to paper, but the result is inspiring and heartfelt, and it has already been a source of encouragement to so many readers."
Ms. Nesbitt adds, "Overall, I feel like I hit the author jackpot with Nancy. She was an absolute dream to collaborate with—turning in her manuscript on time, returning edits early, and working diligently to make the story all it could be! As her editor, I feel doubly lucky—I got the gift of a great author and I got to work on a story that shaped the way I (hope to) inspire others."
In this Behind the Pages Igloo feature, Ms. Naigle talks about her inspirational process, her connection to the characters, and what she hopes readers will take away from her story.
What inspired you to write this novel?
I can't believe The Shell Collector is finally in readers' hands! Don't get me wrong, every book release is exciting, but this one in particular has been in my heart for a long while. Some stories come from tiny nuggets—a place or person or maybe even a circumstance—and then I weave a brand new "what if?" story around it. The Shell Collector was different though. I knew it was special, but it took years before the full story came to me.
The inspiration behind The Shell Collector received its first spark back in 2011, when my cousin told me a story about the mother of a close friend of hers who lived in Kitty Hawk, NC. She had walked those beaches for over thirty years, but one afternoon as she was wrestling with a particularly heavy thought on her regular stroll, she stumbled upon a very special shell with a scripture written inside:
Jeremiah 29:11 – For I know the plans I have for you, declares the Lord, plans to prosper you and not to harm you, plans to give you hope and a future.
The message in the shell comforted her so much that she shared the story with others. No one else had ever found a shell like it, and all agreed it was special. Six years later, another special shell washed up at her feet. She couldn't help but wonder how and why she was so fortunate to be delivered not one, but two of these shells. A year later, on the very same day, she found another.
By the last time I spoke to my cousin, this woman had found five or six shells. It seemed remarkable, so I went online to see if others had found similar shells. Instead I found a story about a woman in Florida, who took the verse from Ecclesiastes 11:1—which advises believers to "Cast your bread on the waters"—literally. Using the abundant Lucina shells and a permanent marker, she has cast thousands of shells with positive messages out to the sea for those who might need them. Some she has even carried with her on trips so that she could toss them into different waters. The messages were simple: God Loves You! You are special to God! Some simply had an image like a crown, dove, cross, or star of David on them. Below the message or picture she wrote her phone number. Such a simple act, yet over the years she's been contacted by people who were blessed by her special messages. Her story and these special intimate moments between strangers captured my heart and attention and planted the seeds for The Shell Collector.
In 2014, I lost my husband of twenty years to a very short battle with lung cancer. A month later, my cousin Diane who had first told me the story of the shells also died of cancer after having fought her battle for years. I could have used a boatload of those special shells that year. I didn't have the shells, but I had a friend who kept me buoyed through all of it; and out of those experiences, the story of The Shell Collector began to weave into something that followed me everywhere and just begged to be written down. Not just to incorporate the shells, but also to incorporate the importance of family and friendships and my own journey of surviving the grief in the loss of my husband. In truth, these themes were so personal that it took me a while to get to a place in my own life where I could write this story.
What are your personal connections to the characters?
This story isn't based on any of the people I researched. The characters are completely fictional, but if I had one wish for every person out there who has lost a spouse, it would be that they would find their "Maeve" to help them through the healing gracefully. Her character was so fun to write. She's strong and determined, and she's perfectly fine on her own doing what she loves—combing the beach for special treasures. She has a sun room filled with them. She also does her part for Whelk's Island, attending the town meetings to be sure the town keeps its small town charm in the ever-changing landscape and influx of new residents.
Of course, change is inevitable, and it takes a few weeks before she realizes the new young family on the beach now lives in Whelk's Island. The friendship that builds between Maeve and this young widow, Amanda, and her two children is touching. The children immediately take to the older woman, picking up her habit of shell seeking, and both women truly rescue each other in a special way.
There's a love story here, too, involving a true military hero who is doing what he can to reunite retired military working dogs with their former partners, and give job opportunities to vets who are trying to get back on their feet. Though he has convinced himself he is content with the niche he's carved out for himself alone in the world, his perspective shifts when he and Amanda cross paths and their history brings an old friendship back to life.
What do you hope readers will take away from this story?
Grief doesn't go away, but it does change. It loses its hard edges and becomes lighter. It softens, and—thank goodness—one day the good memories kind of take over. Unfortunately, there's no magic to it. Everyone will grieve in their own way and in their own time. No one can do it for you, and it will sneak back up and bring fresh tears when you least expect it.
So yes, there are heavy topics in this story, but it is also peppered with delightful moments that will make readers smile. Since I lost my husband, it has been uncanny how many other women and men I've met that have lost their spouses. Every one of those connections and conversations have been so special. I think people who have been in the situation will feel very close to this story. For those who haven't, hopefully they will take something away that might echo in their hearts and bring encouragement when they do encounter loss, either in their own lives or in a loved one's. Whatever the case, my hope is that the story of The Shell Collector will make the journey a little easier.
Posted: May 24, 2021