How Pantheon's Lexy Bloom Brought Hanan al-Shaykh's New Novel to American Readers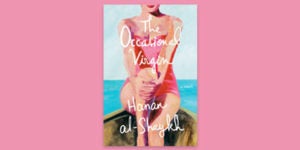 THE OCCASIONAL VIRGIN is a frank and fearless novel from acclaimed writer Hanan al-Shaykh, published today by Pantheon. The book's storyline follows the tumultuous lives and sometimes shocking choices of two women, successful in their careers but unlucky in love.
In this Three Questions for an Editor interview, Lexy Bloom, Senior Editor/Senior Culinary Editor, Knopf, Pantheon, Vintage, Anchor, offers insights into her editorial work with the author, the process of transforming what was originally a short story into THE OCCASIONAL VIRGIN, and the ways in which this book will resonate with American readers. Read on.
When and why did you first begin working with Hanan on THE OCCASIONAL VIRGIN?
About five years ago, Hanan and her agent, Binky Urban, sent me the translation of a long story that Hanan had written in Arabic about a decade earlier, entitled "Two Women by the Sea." It was about two friends — Lebanese women in their late 30s, both of whom were now living in the West — who meet for a short vacation on the Italian Riviera. The setting, on a sun-drenched cove by the Mediterranean where "nature has mixed sea and shore together," was incredibly seductive. It felt unusually intense, and so vividly drawn. It reminded me a little of the moment in Elena Ferrante's My Brilliant Friend, when Lila and Elena visit the sea for the first time. And I was intrigued by what Hanan was trying to do by telling the intertwined stories of these two women: Huda, who had grown up in a very religious Muslim family in Beirut; and Yvonne, who had grown up in a very strict Christian family in the north of Lebanon. The sea represented something different to both of them, but something fundamental all the same.
I encouraged Hanan to keep working on the story. But later she came back to me, explaining that she'd realized she had much more to say, and what would I think if she turned it into a short novel? This was, of course, excellent news. In 2015, she published an Arabic version of this book in Lebanon, entitled The Virgins of Londonistan. Then, along with her British editors, Alexandra Pringle and Faiza Khan of Bloomsbury, I took that novel and helped her work it into something a little different for our English-language publication.
How would you describe the editor/author/translator process and your editorial lens involved in bringing this book to its final form?
As I explain above, the editorial process for this book was a little unusual – so it won't be surprising that the translation process followed accordingly. I edit a lot of translations and typically, the bulk of my editorial work is with the translator. In this case, although Arabic is Hanan's first language and the one in which she chooses to write, she is also fluent in English, so there is no need for the translator to act as a go-between. Once Hanan completes a draft, she works directly with her translator, Catherine Cobham, on the English-language version. When Hanan is happy with it, she sends it to me, along with her British editors, and we work on rounds of edits together, in English. In the case of THE OCCASIONAL VIRGIN, we undertook several rounds of edits, and for the first round or so, Hanan went back to Catherine for translation help. But at a certain point, we began to work on our edits directly.
Ultimately we came to see the book as a diptych – two works that connected into one larger story, with a conversation ongoing between each half. The first, with Huda and Yvonne by the sea in Italy, is the set-up – the way we begin to understand how their childhood experiences affected who they are today. The second, which takes place in London, is the response. A chance encounter at Speaker's Corner makes each of them do very shocking things, and the second half deals with this encounter, and the events that unfold.
The primary characters, with their unorthodox personal choices and entanglements, straddle different cultures and conflicting worlds. What aspects of this novel do you feel will resonate most strongly with readers and why?
At its heart, this is a story about two friends. I always come back to the short story that was the germ for the novel – a story about two women by the sea. These women, Huda and Yvonne, chose to leave behind their families and make new lives for themselves elsewhere, in other parts of the world, in other languages. We meet them when they are in their late 30s, at the top of their careers – Huda is a theater director in Toronto and Yvonne is an advertising executive in London. But they have both been unlucky in love. Huda can't commit to being in a relationship, and it is her natural instinct to play tricks on the men she's involved with, which, as you might imagine, gets her in all sorts of trouble. Yvonne, on the other hand, is desperate to have a baby, and this desire is so strong that it has become blinding. As a result, she's making terrible choices when it comes to men, and nothing is working out.
The scenario I've just described is pretty universal: two women sorting out the balance between work and love, particularly as they reach their late 30s and the pressure of their biological clocks makes their choices carry much more weight. I think this will resonate with anyone who reads it. Where THE OCCASIONAL VIRGIN is distinct, however, is in the characters' back stories – the strict childhoods that Huda and Yvonne had in Lebanon, the families and cultures they've chosen to leave behind, and how that break will never be clean. Just as the book's structure has two distinct parts, it is the dichotomy that makes this story unique – but also what I think will make it resonate with American readers most of all.
Posted: July 10, 2018