How PRH Is Celebrating Pride with Our Readers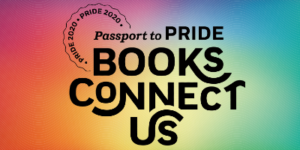 Although Pride might look a little different this year, that has not stopped everyone at PRH from putting together a tremendous lineup of virtual events, content, and resources for readers, with an emphasis on supporting Black communities. The first Pride was an uprising against police brutality led by Black trans women and queer people of color, and it is with that in mind that we are moving forward with our Pride activations.
PRH Pride hub: This is where we are highlighting Pride and anti-racism activations happening across the company. From Instagram Lives to reading lists to podcasts to book donations to major live events, this hub lists the myriad ways our readers can celebrate Pride and support Black and LGBTQ+ authors, booksellers, and communities this month.
Pride Reads 20% Off: We are also promoting this list of Pride reads on site, email, social, and through Facebook and Instagram advertising. These books are all 20% off on PRH.com during the month of June with the code "READPRIDE." If you have authors on this list, they are more than welcome to promote this discount to their fans as well. PRH's social ads will feature: Sister Outsider, We Are Everywhere, The Stonewall Reader, Legendary Children, Lot, Here For It, and Real Life.
Posted: June 18, 2020