How PRH is Supporting Save the Children's Summer Reading Campaign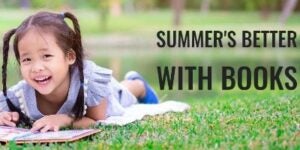 Penguin Random House is supporting our longstanding partner Save the Children for its annual "100 Days of Reading" campaign. This year's campaign is "Summer's Better With Books," which aims to foster continuous learning over the summer months and to ensure that children in rural America, many of who have limited or no access to books, have the opportunity to keep reading.  
From June  until September 8, International Literacy Day, every link that is clicked or QR code that is scanned by Save the Children supporters will help unlock donations of books, educational materials, and healthy food for kids living in some of America's most impoverished, rural communities. Children living in rural poverty face significant, persistent, and unique challenges such as hunger, low education outcomes and lack of access to opportunity. Every day, Save the Children works to ensure these children have a healthy, strong foundation to thrive as learners and in life.   
In addition to unlocking donations, supporters can find educational tips and activities at SavetheChildren.org/READ to help ensure the children in their lives continue engaging in reading and stay active all summer long. Here, children and families will find a library of activities and word games featuring their favorite characters from beloved children's books.
To further increase our impact, Penguin Random House is teaming up with zulily, the online retailer dedicated to bringing special resources to its customers every day, to help provide books to children in need across the nation with a "Buy 1, Give 1" campaign, which will launch on July 1, continuing until August 11. During the "Buy 1, Give 1" summer campaign, special sales events will feature a curated selection of children's books, and each Penguin Random House book purchased will trigger a new children's book donation, up to 50,000 books, from Penguin Random House to Save the Children.
Save the Children has already seen great participation since the launch of the campaign earlier this month, and we celebrate the increased awareness that supports Save the Children's work to improve literacy and change lives.
To learn more about this campaign and take a look at a video, click here
Posted: June 22, 2022