How THE WONDROUS WORKINGS OF PLANET EARTH Entertains, Informs and Empowers Everyone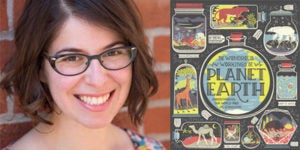 Rachel Ignotofsky's THE WONDROUS WORKINGS OF PLANET EARTH: Understanding Our World and Its Ecosystems presents an expansive and beautifully illustrated tour of our planet, exploring ecosystems large and small, from reefs, deserts, and rainforests to a single drop of water. Making earth science accessible and entertaining through art, maps, and infographics, this newly published Ten Speed Press book explains how our planet works – from its diverse ecosystems and their inhabitants, to the levels of ecology, the importance of biodiversity, and the cycles of nature.
In this special "Behind the Pages" Igloo interview with author and illustrator Rachel Ignotofsky, she walks us through her creative process, what inspired her content strategy, themes and objectives, working with her editor and the Ten Speed Press design and production team, and how she hopes readers of all ages will become empowered to help preserve and protect earth's natural resources.
What inspired you to create this book and focus on the world's ecosystems?
While writing my book WOMEN IN SCIENCE, I was moved by the stories of conservationists like Sylvia Earle, Rachel Carson and Marjory Stoneman Douglas. Through their research of how the natural world functions, they were able to educate people in positions of power.
I think the biggest problem we face is climate change and the overuse of our earth's limited resources. I am not a politician, or a scientist, but what I can do is make books! I take science research and make it easy to understand. Illustration is a tool that can make even the most complicated topics easy and fun to learn. I want to give adults and kids, a basic understanding of how our planet works and inspire conservation.
This book takes readers around the world, from the Great Plains to the mighty Amazon, all the way down to our deepest oceans, revealing that humanity is dependent on these connected ecosystems. It talks about how humanity has impacted our environment, and how people can choose to protect our planet.
How did you decide the best ways to write, illustrate and structure the content?
Earth is a big and complicated place. I thought it would be interesting to create whimsical illustrations that shrank down the largest environments into the size of a precious specimen in a bottle. If you could easily see the world, then you could easily understand it! In each of these ecosystem illustrations, I show a food web, how energy and resources move through it because of the interactions between animals and plants. Each of these ecosystem pages also highlights the biggest benefit that the wildlife provides us, and what is the greatest threat to the environment.
Growing up I had difficulty learning to read. Illustrated books that made learning feel like a game, rather than an assignment, taught me to love reading. I try to make books like that. Where the reader can spend hours on one page discovering new things. I do that by weaving facts into my illustrations and creating different sections on each page. I have a graphic design background, so organizing information in unique layouts are just as important as the writing and the illustrations.
The book gives an overview of ecology, biodiversity, succession, the carbon cycle and the weather, but there is also a ton of trivia for kids! During a school visit, a first grade girl came up to me and asked me, "Did you know wombats poop in cubes! Can that go in your book?" So that definitely made the cut! There is a ton of important science in this book, but there are also goofy facts. Meaningful learning happens while you are having fun.
What was involved in the process of working with Ten Speed Press on this book?
I feel lucky to work with such a wonderful team that allows me so much creative freedom with my books. My editor Kaitlin Ketchum has been such a champion of my books, and continues to support all of my wild ideas. As Kaitlin puts it, each page is "super bespoke". It is so jammed packed full of information and illustration that the typeset body copy, hand done type and illustrations all fit together like a puzzle.
I often work backwards, figuring out the complete finished product, layout and word count of the book before writing it. The amazing Ten Speed design and production team works close with me to make sure that everything looks great, and that each page is work of art! I feel so happy to work with such a great team!
Who do you see as the target readers of THE WONDROUS WORKINGS OF PLANET EARTH and what are the intended takeaways?
I wrote THE WONDROUS WORKINGS OF PLANET EARTH at a middle school level, but this book is for everyone! I believe you're never too old or too young to learn something new. If you love nature or wish you knew more about the earth, this book is for you. I hope the reader takes away how important the earth's natural world is and feels empowered to protect it!
Posted: September 10, 2018