HOW TO LIVE A GOOD LIFE Editors Discuss Life Philosophies via Zoom (4/25)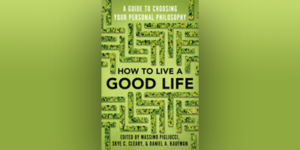 Massimo Pigliucci, Skye Cleary, and Dan Kaufman, who collectively edited HOW TO LIVE A GOOD LIFE: A Guide to Choosing Your Personal Philosophy (Vintage), will be in conversation about their life philosophies via Zoom on Saturday, April 25, at 5:00pm (ET).
This thought-provoking, wide-ranging collection, published as a Vintage Original, brings together essays by fifteen leading philosophers reflecting on what it means to live according to a philosophy of life. From Eastern philosophies (Daoism, Confucianism, and Buddhism) and classical Western philosophies (such as Aristotelianism and Stoicism), to the four major religions, as well as contemporary philosophies (such as existentialism and effective altruism), each contributor offers a lively, personal account of how they find meaning in the practice of their chosen philosophical tradition.
!!A reminder for PRH employees: If you are posting this article to a personal or other non-PRH account you must include the hashtag #TeamPRH.!!
Posted: April 24, 2020