How to Participate in LitWorld's Global Heart Map Project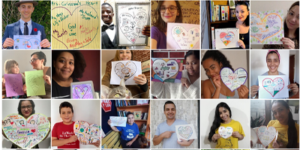 Penguin Random House corporate partner LitWorld® has launched a campaign called the Global Heart Map Project. The organization is inviting people everywhere to create and share Heart Maps, to help shape a positive story about global connectedness in these times when so many people are isolated and apart from each other.
Participating is easy. Here are four simple steps:
Draw a large heart shape on a piece of paper or drawing app.
Inside the heart, draw or write about the ideas, the feelings, and/or things that are most important to you at this time.
Share your Heart Map with friends and family by adding the hashtag #globalheartmap and tagging Lit World on Facebook and Instagram (@litworld) and Twitter (@litworldsays).
Share the Heart Map with LitWorld by emailing it to heartmaps@litworld.org.
Created by writer Georgia Heard, Heart Maps allow people to connect with each other by sharing the ideas and feelings that define us all in the most elemental of ways. After a few months, LitWorld will reveal a Global Heart Map that celebrates our differences while embracing that which connects us all.
LitWorld was founded in 2007 after Pam Allyn, literacy educator and author, visited Kibera, an area of extreme poverty in Nairobi, Kenya. There, she experienced the urgent desire children had to read, write and share their stories, and the barriers that stood in their way. Literacy is not a gift given just to some lucky ones, it is a foundational human right that brings joy, economic independence, gender equity and a pathway out of poverty.
Posted: April 20, 2020