How Whitney Frick Helped Glennon Doyle Shape UNTAMED: "A Way Forward for All of Us"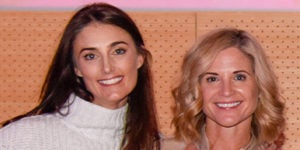 In her "Dear Reader" editor's note that opens the galley of Glennon Doyle's UNTAMED, The Dial Press Editorial Director Whitney Frick wrote, in part, "When a colleague at Random House finished reading UNTAMED, she said to me, 'Whit, I turned the last page of this book and I felt like I could jump off the roof of the building and fly.'"
Soulful and uproarious, forceful and tender, UNTAMED, published by The Dial Press on March 10, is both an intimate memoir and a galvanizing wake-up call. It is the story of how one woman learned that a responsible mother is not one who slowly dies for her children, but one who shows them how to fully live. It is the story of navigating divorce, forming a new blended family, and discovering that the brokenness or wholeness of a family depends not on its structure but on each member's ability to bring her full self to the table.
In this Three Questions for an Editor interview, Whitney shares her impressions of the manuscript of UNTAMED in its early stages, the process involved in working closely with the author to create a finished book, and what elements of the narrative she feels will resonate most strongly with readers.
What were your first impressions upon reading Glennon Doyle's manuscript for UNTAMED?
I have been working with Glennon for nearly ten years — I had the privilege of publishing her first book, Carry On, Warrior, and her second, the #1 New York Times bestselling and Oprah's Book Club selection Love Warrior, and I have seen her change the world through her work with Together Rising, the all-female-led nonprofit she founded, which has raised more than $25 million for families in need. But I have never been more excited about her writing or more proud to be her editor than I am now. Glennon sent me some early sections of UNTAMED in the Fall of 2018 and I could tell instantly that she was writing with a newfound fearlessness. There was such a confidence and a clarity in the early pages she sent me, I was confident that if she just kept writing, the book would take shape. When I read the very first pages of UNTAMED, I knew Glennon was writing her most powerful and revealing book yet. I was wildly excited—to put it mildly.
How would you describe the process of working with Glennon on the narrative and structure as this became a finished book?
Working with Glennon is a joy. She is a deep thinker, an outrageously talented writer, and she has a clear sense of what she wants her books to offer readers. At the same time, she is open to feedback and she approaches the process with an open mind and collaborative spirit. While we were working on UNTAMED, I went down to Glennon's house in Florida for a couple of editorial retreats. During the first trip, we spent a lot of time outlining the book and discussing the ideas that she wanted to share through her story. On my second trip, we had a nearly final draft of UNTAMED but we wanted do one last round of refining. So Glennon sat at her dining room table and read every word of the book aloud, stopping where we thought we should revise and fine-tune.
There are pages of raw honesty, intimate personal details shared, and self-determination in UNTAMED. What elements do you think will resonate most strongly with readers?
What I have always loved about Glennon's work is that while she shares deeply personal stories, the lessons she imparts have universal resonance. UNTAMED is Glennon's memoir, but it points a way forward for all of us. UNTAMED reveals how we can begin to trust ourselves enough to set boundaries, make peace with our bodies, honor our feelings, heed our instincts, and live the peaceful, joyful lives of our wildest imagining. In sharing her own story, Glennon proves to all of us that the braver we are, the luckier we get.
Posted: March 10, 2020