Humanitarian, Spiritual Leader, and Avery Author Archbishop Desmond Tutu Dies at 90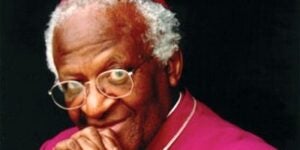 The world lost a spiritual giant on Sunday, December 26, when Archbishop Desmond Tutu, co-author of The Book of Joy, published by Avery in 2016, died at the age of 90 in Cape Town, South Africa. Archbishop Tutu was a leader in the anti-apartheid movement in South Africa, a humanitarian and human rights activist, and winner of the Nobel Peace Prize. His work advocating for non-violent solutions to injustice and poverty changed the world.
In 2015, Archbishop Tutu spent a week in Dharmasala with his dear friend, His Holiness the Dalai Lama, to celebrate His Holiness's 80th birthday. During their historic time together, the two world leaders discussed their lives, hardships, and quest to make the world a better place. These conversations became the New York Times bestselling The Book of Joy. The Archbishop's wit and jubilance shine through its pages. We at Avery suggest reading it accompanied by a pint of his favorite ice cream – Rum Raisin.
"We all knew Archbishop Tutu as an icon among spiritual leaders," says his editor, Caroline Sutton. "But it wasn't until we started working with him that we discovered the way he brought joy, hope, and a touch of mischief to even the smallest exchange. The world has lost a beacon of inspiration. We have lost a very dear friend."
Archbishop Tutu's life was celebrated the world over with tributes from global and religious leaders, including President Barack Obama who called him "a mentor, a friend, and a moral compass … whose… universal spirit … was grounded in the struggle for liberation and justice in his own country, but also concerned with injustice everywhere." The Archbishop's friend and The Book of Joy co-author His Holiness The Dalai Lama said, "Archbishop Desmond Tutu was entirely dedicated to serving his brothers and sisters for the greater common good. He was a true humanitarian and a committed advocate of human rights."
Posted: January 7, 2022