Ibram X Kendi is the Special Guest at Busboys and Poets' Virtual Dinner Party via Zoom (6/19)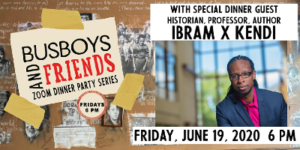 Ibram X Kendi, author of HOW TO BE AN ANTIRACIST (One World) and ANTIRACIST BABY (Kokila), will be the Special Guest at Busboys and Poets' Virtual Dinner Party, hosted by CEO and Founder, Andy Shallal, via Zoom on Friday, June 19 at 6:00pm (ET).
Busboys and Poets has always been a place for artists, activists, and writers of the community to gather and break bread. And while we may be physically distant right now, we can still stay connected and break bread together.
From the National Book Award-winning author of Stamped from the Beginning and How to Be an Antiracist, comes Antiracist Baby, a fresh new board book that empowers parents and children to uproot racism in our society and in ourselves.
Dr. Kendi is a New York Times bestselling author and the founding director of the Antiracist Research and Policy Center at American University. A professor of history and international relations and a frequent public speaker, Kendi is a columnist at The Atlantic. He is the author of How to Be an Antiracist and Stamped from the Beginning: The Definitive History of Racist Ideas in America, which won the National Book Award for Nonfiction, and The Black Campus Movement, which won the W.E.B. Du Bois Book Prize. Kendi lives in Washington, D.C.
!! As a reminder, if you are a PRH employee posting to a personal or other non-PRH account, you must include the hashtag #TeamPRH !! 
Posted: June 18, 2020