Ibram X. Kendi's HOW T0 BE AN ANTIRACIST To Be Published In Spanish By Vintage Español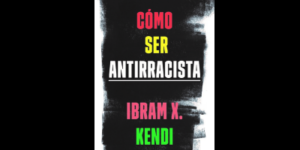 Vintage Español will publish the Spanish-language edition of Ibram X. Kendi's number-one New York Times bestseller How to Be an Antiracist. The publication, scheduled for October 27, will mark the first time this landmark book will be available in Spanish in the U.S. and Canada. CÓMO SER ANTIRRACISTA will be published simultaneously in trade paperback and ebook by Vintage Español, and as an audiobook in Spanish by Penguin Random House Audio. All three editions will be adapted to Latin American Spanish.
Ibram X. Kendi said, "I can't tell you how excited I am for the release of CÓMO SER ANTIRRACISTA! I have been waiting to place this book before Spanish-speaking readers, especially as a wave of anti-Latinx racism flows through American politics. I can't wait for its release."
Vintage Español Publishing Director Cristóbal Pera brokered the deal, acquiring U.S. and Canadian rights from Rayo Verde Editorial in Barcelona, the book's publisher in Spain and Latin America, with the help of the Random House Group Rights Team.
"We are very excited to make Kendi's timely and imperative book available to Spanish-language readers in North America," said Pera. "In our mission to address social issues that are significant to the Latinx community in the United States, COMO SER ANTIRRACISTA will join other relevant Vintage Español titles by Eduardo Porter and Paola Ramos on our 2020 list."
National Book Award-winning author Ibram X. Kendi's HOW TO BE AN ANTIRACIST offers a "groundbreaking" (Time) approach to understanding and uprooting racism and inequality in our society and in ourselves. Published in the U.S. and Canada in hardcover and ebook English-language editions last year by One World, a Random House imprint, the book has become a #1 New York Times bestseller, with nearly one-million copies in print.
COMO SER ANTIRRACISTA joins Vintage Español's robust Fall lineup of titles regarding achieving racial and societal equality, which also includes New York Times columnist Eduardo Porter's El precio del racismo, a sweeping examination of how American racism has damaged the lives of every American, and a heartfelt look at how these deep wounds might begin to heal, and Paola Ramos's Latinx, an exploration of the growing number of Latin-X voices that today hold more political, social, and cultural relevance than ever before.
Vintage Español is the Spanish-language imprint of Penguin Random House, founded in 1994, and publishing works of fiction and nonfiction. It is one of the largest Spanish-language publishers in the United States, offering an extensive list of titles across a wide variety of genres. Vintage Español authors include Gabriel García Márquez, Sandra Cisneros, Julia Álvarez, Isabel Allende, Erika L. Sánchez, Jorge Ramos, Alfredo Corchado, Roberto Bolaño, Valeria Luiselli, and many others.
Posted: July 14, 2020