Igloo Book Buzz: AND I DARKEN by Kiersten White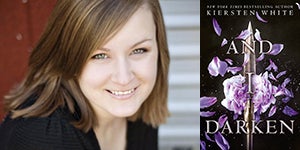 The growing excitement for Kiersten White's new YA novel, AND I DARKEN, which goes on sale Tuesday, June 28, began with the book's editor, Wendy Loggia, Executive Editor, Delacorte Press: "Whatever Kiersten White does, I'm on board, so when she said she was writing a novel in which Vlad the Impaler was a girl, I couldn't wait. AND I DARKEN is the story of Lada Dragwlya, the brutal, driven princess, her brother, Radu, and Mehmed, the Sultan. Think of this novel—the first in a trilogy—as a teenage Game of Thrones set in the Ottoman Empire, but without magic and dragons. It's dark, sophisticated, and bloody, with murders, political intrigue, war, betrayals, violent uprisings, and romance. AND I DARKEN is a sweeping reimagining of history, all in the hands of a master storyteller. I hope readers fall as madly in love with Kiersten's fictional history as I have."
Reviewers and fellow authors have been offering their own praise. Here is a sampling:
"Full of sword fights, assassination plots, and palace intrigues, this novel is ambitious in scope and concept and reveals a fascinating, important, and somewhat obscure slice of history…the novel is breathtakingly good." —School Library Journal
"AND I DARKEN is a jewel of a book—a jewel embedded in the hilt of a blood-soaked sword. A brilliantly envisioned alternate history that is meticulously detailed but compulsively readable, this is a story I could not put down. I demand the sequel like Lada demands Wallachia!" —Beth Revis, author of the New York Times bestselling Across the Universe series
"It's a gritty, historically based fantasy and it's not for the faint of heart."—BuzzFeed
"AND I DARKEN is Kiersten White at her absolute best. The epic story will thrill you, the Transylvanian setting will transport you, and the characters (especially the fierce, take-no-prisoners Lada) will capture your heart. Don't miss it." —Cynthia Hand, New York Times bestselling author of the Unearthly series
Kiersten White reveals, "I spent so many of my teen years cultivating likeability: studying and mimicking and trying desperately to figure out how to be what everyone around me would most like. It took me years to shed that need, like a too-tight skin cracking and peeling around my sharpening edges. Writing Lada in AND I DARKEN felt like the final layer tearing away. So when I hear about 'unlikeable narrators,' I say, yes, please. Give me girls with teeth. Give me girls with ruthless ambition. Give me girls with rage and passion and dark, feral hearts. They don't need me to like them—but oh, how I do."
Ms. White will be going on a group young adult author tour in the fall to six cities (San Francisco, Salt Lake City, Denver, New York, Raleigh, and Atlanta) with fellow YA authors Catherine Egan (JULIA VANISHES), Jessica Cluess ( A SHADOW BRIGHT AND BURNING), and Arwen Elys Dayton ( TRAVELER).
Posted: June 27, 2016