Igloo Book Buzz: SHE POURED OUT HER HEART by Jean Thompson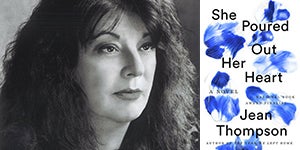 National Book Award finalist and New York Times-bestselling author Jean Thompson returns with her most psychologically penetrating novel yet, SHE POURED OUT HER HEART, which goes on sale from Blue Rider Press on May 31.  The book charts the course of a tumultuous, twenty-year friendship between two dissimilar best friends from college. Bonnie (single, witty, up-for-anything, sexually adventurous, prone to romantic disasters) and Jane (intelligent, self-doubting, cautious, discontented suburban wife and mother) are the kind of women, with a kind of opposites-attract friendship, we all know. But when Jane experiences a profound
psychological and spiritual crisis, and Bonnie tumbles into an affair with Jane's husband, their relationship enters an explosive and highly unconventional territory, with surprising and unexpectedly rich outcomes that neither of them ever could have predicted. 
SHE POURED OUT HER HEART is a finely wrought, haunting story of female friendship and deception and an exploration of love's wild and dramatic complexities. Jean Thompson tells us, "I set out to write a love story.  Then things got complicated."
Buzz around the book has been high, with brilliant early reviews:
"With piercing empathy and incandescent humor, Thompson considers the riddles of sexual passion and love, self and change, loyalty and forgiveness, forging an engrossing novel of crackling insights and ambushing drama." – Booklist (Starred review)
"National Book Award finalist Thompson illustrates the sometimes-ugly complexities of women's friendships in an account of a decades-long relationship between two very different women…Thompson's many fans will…find moments of clarity and insight in this parallel character study." – Publishers Weekly
"Both Jane and Bonnie are well-crafted characters, reflecting Thompson's consistent knack for capturing the emotional seas within seemingly conventional middle-class Midwesterners. (She's also excellent at depicting children, so often an afterthought in such novels.)" – Kirkus Reviews
SHE POURED OUT HER HEART was recently named one of Harper's Bazaar's best books of summer, and anticipation is building among online bloggers, reviewers, and Instagrammers (the cover is as irresistible as the read! https://www.instagram.com/p/BFReqSLl1tn/)
Thompson appears this summer at Chicago's Printer's Row Festival, and SHE POURED OUT HER HEART is expected to be reviewed widely, from Cosmopolitan and InStyle to the San Francisco Chronicle, the Minneapolis Star Tribune, Milwaukee Journal-Sentinel and more.
Posted: May 25, 2016