Igloo Book Buzz: Terry McMillan's I ALMOST FORGOT ABOUT YOU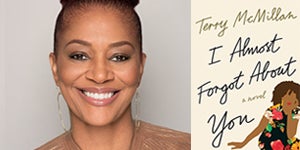 Terry McMillan, #1 New York Times bestselling author of HOW STELLA GOT HER GROOVE BACK and  WAITING TO EXHALE, has written an inspiring story of a woman who shakes things up in her life to find greater meaning.  In Terry's upcoming book, I ALMOST FORGOT ABOUT YOU, which goes on sale from Crown on June 7, Dr. Georgia Young's wonderful life–great friends, family, and successful career–aren't enough to keep her from feeling stuck and restless. When she decides to make some major changes in her life, including quitting her job as an optometrist and moving from her house, she finds herself on a wild journey that may or may not include a second chance at love. Georgia's bravery reminds us that it's never too late to become the person you want to be, and that taking chances, with your life and your heart, are always worthwhile.
 
Big-hearted, genuine, and very universal, I ALMOST FORGOT ABOUT YOU shows what can happen when you face your fears, take a chance, and open yourself up to life, love, and the possibility of a new direction. It's everything you've always loved about Terry McMillan.
Here is a sampling of the high praise and advance buzz Terry McMillan's new book has received:
"Terry McMillan's novels have always been about telling the uncensored truth about friends, family, lovers, and oneself.  Through addictively revealing conversations–including an instructive one about the sexual prowess of men who made the A list–McMillan's narrator is the ideal running commentator on what smart women do to reach the pinnacle of success and what they must do to get the hell out before it's too late. It's a story about both reinvention and acceptance, told in McMillan's quintessential voice, now even more expansive, prismatically perceptive, and laugh-aloud generous in how we talk about love and all its wonders."
– Amy Tan, New York Times bestselling author of The Joy Luck Club and The Valley of Amazement
 
"One of my favorite authors since I read Waiting to Exhale in college, Terry McMillan has done it again with this one. Overflowing with her trademark heart and humor, I Almost Forgot About You will inspire you to live a little bigger. I wish Georgia weren't fictional—I would find her and befriend her."
—Emily Giffin, #1 New York Times bestselling author of First Comes Love and Something Borrowed
"Fans of McMillan will welcome this new addition to her oeuvre. Here is McMillan's trademark style in full, feisty effect: strong, complicated female characters, energetic prose, and an entertaining, seductive narrative. A heartwarming story that reminds us of the pure joy of believing in love."
–Kirkus Reviews
Posted: June 6, 2016