Illustrator Max Lang Shows How to Draw GRUMPY MONKEY via Instagram (5/15)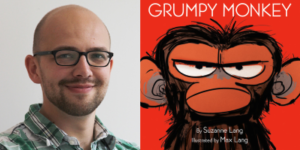 In the virtual #RHCBArtSchool with Max Lang, the illustrator of GRUMPY MONKEY (Random House Books for Young Readers) shows how to draw "Grumpy Monkey" via Instagram on Friday, May 15 at 1:00pm (ET).
GRUMPY MONKEY is the #1 New York Times bestselling picturebook about dealing with unexplained feelings … and the danger in suppressing them. Suzanne and Max Lang bring hilarity and levity to this very important lesson. Their picture book is an excellent case study in the dangers of putting on a happy face and demonstrates to kids that they are allowed to feel their feelings (though they should be careful of hurting others in the process!).
!! As a reminder, if you are a PRH employee posting to a personal or other non-PRH account, you must include the hashtag #TeamPRH !! 
Posted: May 14, 2020