In Memoriam: NBA Legend and Activist Bill Russell 1934-2022
Bill Russell, the National Basketball Association immortal who died July 31 at 88, has been lionized worldwide for his record-setting achievements with the Boston Celtics and for his pathfinding activism.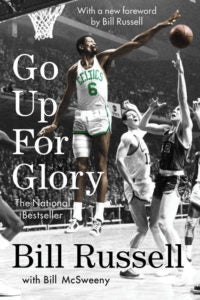 In Fall 2020, Dutton returns to print, for the first time in decades, his forthright  memoir "Go Up For Glory," with his newly written foreword, enabling a new generation of readers to appreciate the author and his singular, candid mindset.
Click here to read more about the classic memoir and Dutton's 2020 press release here.

To honor his memory and legacy, Dutton has made a contribution to MENTOR, "an organization which aims to drive equity through quality mentoring relationships for young people." Russell was a founding board member.  Click here to learn more about MENTOR.
Posted: August 4, 2022