In Memoriam: Remembering Penguin Random House Colleagues We Lost in 2021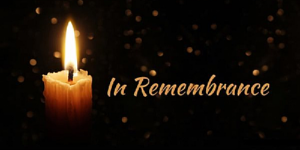 Amidst our many publishing triumphs and rewards this year, we also shared much sorrow over the passing of present and past colleagues, from Penguin Random House and its predecessor companies, whose careers with us we celebrated with Igloo appreciations.
We welcome this opportunity to once more pay our respects to each of them.
Anton Strout, Our Friend and Colleague, 1970 – 2020
JANUARY 4, 2021
A message from Jaci Updike: Our colleague Anton Strout passed away, suddenly, on December 30. Anton was 50 years old and has been part of the Penguin Random House family for over 22 years.
International Sales Alumnus Dave Kotick Dies at 94
MARCH 15, 2021
International sales and marketing colleagues and alumni across the world are mourning the passing of one of their own.
In Memoriam: Ann Beneduce, Founder of Philomel, Eric Carle's Longtime Editor
MARCH 24, 2021
Ann Beneduce, children's book editor and founder of Philomel Books, passed away on March 18, at the age of 102.
Our Friend and Colleague Oscar Rodriguez: 1976 – 2021
MAY 5, 2021
It is with profound sadness that we inform you that our IT colleague Oscar Rodriguez has succumbed to complications from COVID-19 and passed away. Oscar was 45 and is survived by his wife and their 13-year-old daughter.
Richard Baron, Sixties Publisher of Baldwin, Mailer at The Dial Press, Dies at 98
MAY 10, 2021
"If anyone was the perfect publisher for the 1960s, it was Richard Baron. He was totally fearless, and he backed us in every crazy thing we would do," E.L. Doctorow, former Editor-in-Chief, The Dial Press.
Phyllis Mandel, Distribution & Fulfillment Trailblazer, Dies at 75
MAY 21, 2021
Penguin Random House is operating at half mast as word spreads nationwide of the passing of a retired colleague who helped shape and transform our facilities' pipeline into the centerpiece of trade publishing's leading supply chain.
Dan Frank, Pantheon Editorial Director, Dies at 67
MAY 25, 2021
From Reagan Arthur, EVP, Publisher, Knopf Pantheon Schocken: I am very sad to share the news that Dan Frank passed away on Monday, May 24, in Manhattan, at the age of sixty-seven.
Former, Veteran RH Sales Rep Mike Rockliff, 76, Dies
JULY 30, 2021
Michael Rockliff, a storied, admired Random House Sales rep of almost 40 years, died Thursday. He was 76. Rockliff was a member of the Random House Sales group in a variety of roles, from 1968-2006.
In Memoriam: Erika Seyfried
AUGUST 31, 2021
From Sanyu Dillon, EVP and Chief Marketing Officer, Penguin Random House U.S.: I'm heartbroken to share that Erika Seyfried, VP, Director, Digital Strategy and Consumer Engagement, died on Sunday. She was 36.
SEPTEMBER 9, 2021
A message from Jaci Updike, President, Sales, Penguin Random House US: I'm writing today with the incredibly heartbreaking news that we have lost our colleague and friend Candice Chaplin, who was 53, after a long battle with cancer.
Remembering John Ziccardi, 78, Seventies, Eighties Bantam Sales Maestro
SEPTEMBER 29, 2021
We are mourning the passing of Bantam/BDD super-salesman John Ziccardi, 78, who in his three decades with us, was responsible for placing millions of mass-market paperbacks on the shelves and racks of New York City and national accounts.
RH's Late Editorial Giant Bob Loomis Celebrated
SEPTEMBER 15, 2021
The life of Robert Loomis, the revered Random House editor for more than a half-century, whom we lost in April 2020 at 93, was celebrated on Sunday, September 5, at the Long Island Sag Harbor home he shared with his wife.
Remembering Former Putnam Colleague Diane Lomonaco: 1954 – 2021
OCTOBER 11, 2021
It is with great sadness that we share that our former colleague, Diane Lomonaco, died on October 4, 2021, after a long and courageous battle with early onset Alzheimer's disease.
Remembering Doubleday/Broadway/Crown/Penguin Editor Charlie Conrad
NOVEMBER 30, 2021
Celebrated editor and former colleague Charlie Conrad died on November 21, 2021, from complications of ALS. He was 61. Conrad edited some of the biggest names in narrative nonfiction, among them Frances Mayes and Jon Krakauer.
REST IN PEACE, DEAR COLLEAGUES
***
Posted: December 15, 2021