In Memoriam: Russell Perreault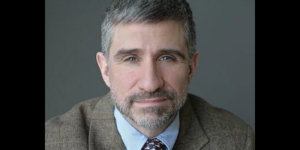 Vintage Anchor Vice President, Executive Director of Publicity and Social Media has died.
Russell Perreault passed away at his Connecticut home on Saturday, July 27. He was fifty-two years old.
See below note from Vintage Anchor Publisher Anne Messitte.
Russell was a beloved colleague – exuberant, funny, precocious, smart, and in possession of an infectious enthusiasm for books and authors. He was a well-rounded, discerning, and passionate reader, and these attributes made him one of the very best at his job. He worked with hundreds of authors throughout his twenty-five-year career at Vintage Anchor – including Robert Caro, Joan Didion, Maxine Hong Kingston, Sandra Cisneros, Michael Ondaatje, Jhumpa Lahiri, Sister Helen Prejean, Julie Otsuka, Erik Larson, E L James, Cheryl Strayed, Chris Bohjalian, and Alexander McCall Smith. Russell always brought a front-list mentality to backlist publishing; he was quick to both act on and develop opportunities in the market, as he did recently with James Baldwin's I Am Not Your Negro, putting together a bestselling book in connection with the release of the award-winning film.
Russell had a great instinct for social media in its nascent stages. Creating and managing more than three hundred Facebook pages for authors and literary estates, he was a pioneer in recognizing the value of social media as a resource for readers and writers. With his team at Vintage, Russell established and continued to run the verified Facebook accounts for many of the world's greatest writers, including William Shakespeare, Charles Dickens, Jane Austen, Plato, Socrates, Charlotte Brontë, Leo Tolstoy, Victor Hugo, Mark Twain, Edgar Allan Poe, Arthur Conan Doyle, Emily Dickinson, and Ben Franklin. Under his auspices, the Vintage Anchor and Everyman's Library social footprint for authors and their work blossomed to a reach of more than 200 million, and his personally curated Vintage Anchor Facebook page became one of the largest social platforms in adult publishing. Russell also liaised with motion picture studios and television production companies on our movie tie-in program, making it one of the most robust in the industry. He was trusted by agents, booksellers, and media colleagues and that trust, earned over decades, served our authors and their books well. In short, Russell was a unique, dynamic, and multitalented publishing executive, and at Vintage Anchor, one of our very favorite people to work with and be around.
On a personal note, Russell's devotion to family, friends, and life in New Milford, Connecticut, was legendary: the beautiful, historic home that he restored with his beloved husband, Reed Maroc, the gentleman's farm they both worked alongside their dog, Cassie, and the farm chickens who came to enjoy a certain fame on Instagram, the regular Saturday dinners they shared with their neighbor and dear friend Brooke Hayward, and Russell's weekly gifts to colleagues of eggs laid by his hens, garlic grown in his garden, and movie screeners. During his work weeks in New York, Russell pursued his passions for theater and film, and, without fail, his commitment to workouts in the pool and at the gym – his preternatural fitness shamed us all. So did his wry wit and command of industry gossip. Time spent in Russell's company was always great fun, and it's hard to imagine our publishing group and the industry he loved without him.
"Russell was a dear and trusted friend," writes E L James, whose Fifty Shades trilogy he helped turn into a publishing phenomenon. "Loyal, articulate, and cultured, with a wicked sense of humour. I adored him, and I am heartbroken that he's no longer with us."
Sloane Crosley, who worked with Russell for nine years, writes, "He was the most generous, warm, curious, quick, and darkly funny person I've ever met. He was exacting in his tastes — his delight over a book or film was as contagious as his exasperation. He also had a horror of compliments and refused to acknowledge the impact he had on so many writers, both the ones he worked for and the ones he worked with. I felt spoiled to be his friend. He was, in short, my favorite person."
# #
Russell Perreault
March 12, 1967 – July 27, 2019
# #
Posted: August 1, 2019