Ina Garten Serves Up Comfort Food in Her New Barefoot Contessa Cookbook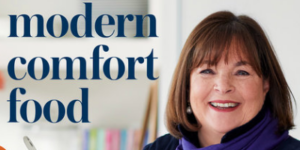 "Food has an almost magical ability to soothe us," says Ina Garten. "That's what my new cookbook, MODERN COMFORT FOOD, is all about. Comfort food isn't fancy food; in fact, it's quite the opposite—these are old-fashioned dishes but they're so much better than you remember.
"What makes these recipes modern? I take a traditional dish, then update it with fresher ingredients or easier cooking techniques. This is true home cooking, but with a twist to make it really special.
"This book is devoted to helping you prepare food that will feed not only your cravings but also your soul. I hope it will help you take care of yourself and the people around you so everyone is happier and less stressed. In this crazy world, that's an incredible gift you can give yourself, your family, and your friends. Cooking really delicious comfort food—particularly fresh, modern comfort food—ensures that everyone at your table will feel happy and satisfied, and isn't that how we want our family and friends to feel?"
Published by Clarkson Potter, MODERN COMFORT FOOD features 85 new recipes, many inspired by childhood favorites—but with the volume turned way up —such as Cheddar and Chutney Grilled Cheese sandwiches, the perfect match for Ina's Creamy Tomato Bisque (see both recipes below). For dessert? There's the best Boston Cream Pie, Banana Rum Trifle, and Black & White Cookies you'll ever make.
MODERN COMFORT FOOD Featured Recipes
Creamy Tomato Bisque
Isn't a steaming bowl of tomato soup the ultimate comfort food? While heating up a can of tomato soup may do in a pinch, the real thing is so much better—with slowly sautéed onions and leeks plus good Italian tomatoes and a hint of saffron. You'll never go back to that can again!
SERVES 8
Ingredients
3 tablespoons unsalted butter
Good olive oil
1½ cups chopped yellow onion (1 large)
¾ cup chopped shallots (2 large)
1 cup chopped leek, white and light green parts, spun-dried
3 (28-ounce) cans crushed tomatoes, preferably San Marzano
4 cups whole milk
2 cups heavy cream
½ teaspoon saffron threads
¼ teaspoon crushed red pepper flakes
Kosher salt and freshly ground black pepper
Grated Italian Parmesan, for garnish
Minced fresh parsley, for garnish
Directions
Heat the butter and 1 tablespoon olive oil in a large (11-inch) pot or Dutch oven, such as Le Creuset, over medium-low heat. Add the onion, shallots, and leek, and sauté for 8 to 10 minutes, stirring occasionally, until the vegetables are tender. Add the tomatoes, milk, cream, saffron, red pepper flakes, 1 tablespoon salt, and 1½ teaspoons black pepper. Raise the heat, bring to a boil, then lower the heat and simmer uncovered for 30 to 40 minutes, stirring occasionally, until the flavors are blended and the soup is slightly thickened.
Off the heat, stir in 1 teaspoon salt and ½ teaspoon black pepper.
Serve hot, sprinkled with the Parmesan and parsley. make ahead: Prepare the soup completely and refrigerate.
Reheat over medium-low heat, adding milk or water as needed to make the soup the desired consistency.
Cheddar & Chutney Grilled Cheese
Isn't a really good grilled cheese sandwich the ultimate comfort food? This isn't Wonder Bread with some mystery cheese inside—it's bakery white bread piled high with extra sharp Cheddar and savory chutney to brighten the flavor.
MAKES 6 SANDWICHES
Ingredients
12 (¼-inch-thick) slices good bakery white bread
¼ pound (1 stick) unsalted butter, melted
1 (8.5-ounce) jar mango chutney, such as Stonewall Kitchen
3 cups grated extra-sharp white Cheddar (8 ounces) (see note)
Directions
Lay six slices of the bread on a cutting board and brush each slice generously with the butter. Turn the slices over and spread each one with 1½ tablespoons of the chutney. Place ½ cup of the Cheddar evenly on each slice and place the remaining six slices of bread on top of each sandwich. Brush the tops generously with melted butter.
Heat a panini press and grill the sandwiches according to the directions for the machine, until the bread is nicely browned on both sides and the cheddar is starting to melt. Place the sandwiches on a cutting board and cut each one in half diagonally. Serve hot.
Note: Grate the Cheddar in large shreds on a box grater, as you would grate carrots. For a large amount, you can use the carrot grater blade of your food processor. If you don't have a panini press, you can make these in a sauté pan with a small skillet on top.
Posted: November 4, 2020