Inside Our Video Team's Kick A** Characters Series on Papercuts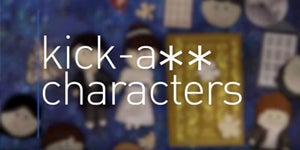 Kick A** Characters is a video series created by our Penguin Random House Video Team, on Papercuts (Read It Forward's video channel), featuring stop-motion animation tributes to some of our favorite literary characters. The just-released 4th video in the series profiles Elizabeth Bennet from Jane Austen's PRIDE & PREJUDICE. 
These videos are all made in-house by the PRH Video Team. It starts with storyboarding, then crafting, then shooting hundreds of still frames of the scenes in the Random House Video Studio before editing it all together and layering on text, music and sound effects – ultimately producing a video that is meant to be very eye-catching and shareable.
The primary goals with this series (and generally any series on the video channels the team manages) are:  1) To engage the respective reader community with content that will speak to them; 2) To make something that will be shared to those outside the community to acquire more subscribers; 3) To create a new way to promote the books we feature in the series; and 4) To contribute to books and reading in general continuing to be part of the digital video conversation.
Posted: April 13, 2017