Inside SMALL GREAT THINGS with Author Jodi Picoult and Ballantine's Jennifer Hershey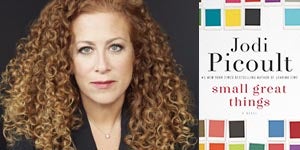 In this special Igloo interview, bestselling author Jodi Picoult and her editor, Jennifer Hershey, Senior Vice President, Editor in Chief, and Associate Publisher, Ballantine Books, take us inside the inspiration for and the process of writing and editing SMALL GREAT THINGS, a stunning new novel that Ballantine Books is publishing on Tuesday (10/11). With richly layered characters, unflinching insights, and a gripping moral dilemma at its heart, this book will lead readers to question everything they know about privilege, power and race. Jodi and Jennifer talk about how SMALL GREAT THINGS came to be and how they think readers everywhere will be deeply affected and inspired to have further discussions about issues that are important to us all.
Jodi Picoult
In your novels, you often place your characters in situations where there are no easy answers, and where their choices can have lasting consequences. This is most definitely the case in SMALL GREAT THINGS. What was the inspiration behind the writing of this book and creation of its central storyline and characters?
I had wanted to write about race for about twenty years, and even started a novel and abandoned it, concerned about my "right to write" about a life I've never led, and whether this was my story to really tell. Then I read a real-life news story in 2012 about a Michigan nurse who helped deliver the baby of a white supremacist, who requested that she and other African Americans not touch the infant.  The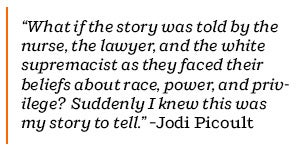 nurse sued the hospital, but it got me thinking — what if she was alone with the baby and something went wrong?  What if she wound up on trial with a white public defender who – like most people I know –  would never consider herself to be a racist? What if the story was told by the nurse, the lawyer, and the white supremacist as they faced their beliefs about race, power, and privilege? Suddenly I knew this WAS my story to tell. I wasn't writing it to tell people of color what their lives are like.  I was writing to people like me, to say that even though it's easy to point to a white supremacist and say, "He's a racist," it's harder to point to yourself and say the same thing. And yet, it's true — because if you're white in this country, you hold all the power — and that's part of the equation of racism.
As you were writing the book, what were some of the most challenging and rewarding parts of the process?
I couldn't ask my readers to unpack their biases without doing that myself. So I attended social justice workshops, where I left in tears every night as I realized how much I had overlooked the privileges I'd had as a white woman.  I also sat down with multiple women of color who shared their stories with me, kindly overlooking my ignorance.  I talked about race with them in a way I'd never talked to people of color before — it was intense, and upsetting, and very healing.  They were also sensitivity readers for me — making sure that the voice of Ruth was accurate and authentic. Part of my research, too, involved meeting with two former Skinheads who now actively speak out against racism. Their experiences were horrifying to hear about, but I kept thinking: if THEY can change, can't the average white person change too?
How much did your own personal experiences impact the development of aspects of SMALL GREAT THINGS?
I learned so much about racism in general — it's easy to see the headwinds of racism, the things that make it harder for a person of color to achieve success. It's harder to see the tailwinds — the ways that being white has contributed to our own success. I'd spent years chalking that up to luck or hard work…but in reality, the opportunities I may have had are a direct result of the fact that someone of color may not have had those opportunities. It's a huge concept to wrap your head around — and once you do, you won't see the world the same way. I know I don't.
In what ways do you envision how your readers may react to the novel's dilemmas, particularly the ones involving race, prejudice, and the justice system?
Everyone who has read it so far has been deeply affected.  From the African American man who came up to me after I spoke at a conference and burst into tears, and then said, embarrassed, "I'm so sorry. I just…never expected to hear anything like that here…" to the white people who write me weeks after they have finished the book to tell me about micro-aggressions they've noticed and how they've been so much more aware and critical of their own behavior. Here's the thing about racism – it's systemic and institutional, but it's both perpetuated and dismantled in individual acts. Most of us don't talk about racism because we don't HAVE to, and because we are afraid of offending people. It's my hope that this book will be a springboard for discussion, and will give readers the tools and the vocabulary to join a conversation that this country desperately needs to have.
Jennifer Hershey
As Jodi's editor, what do you see as your primary role?
One of the main characters of her new novel is a labor and delivery nurse, so I just can't resist using that as an analogy for my role. Providing support and encouragement as the novel is being "born" is a huge element of my job. Beyond that, as part of an amazing team that includes brilliant publicists and marketers and art directors and sales people, my goal is to help strategize and coordinate all those efforts so that we can get the novel into the hands of the widest possible readership.
How would you describe your editor/author relationship/process with Jodi on this book and how it compared to prior novels of hers that you have worked on?
It was similar to our previous experiences. Jodi is a dream to work with because she has a very clear vision of what she is trying to accomplish and is very open-minded to any suggestions that may help her do it even more effectively. She is passionate about her subject matter and I responded powerfully to it, so we had thought-provoking and emotional conversations about the questions her characters are forced to confront in the story.
What elements of SMALL GREAT THINGS do you feel may have the strongest impact on readers and spark the most discussion?
Jodi has three very different point of view characters in the story, and they each, obviously, see the dramatic events that are unfolding in a very different way, through a very different lens. As a reader, then, it's almost impossible not to think hard about your own point-of-view on our world, our culture, as you rotate among those different lenses. It is definitely one of those books that you want to talk about the minute you finish reading it!
Posted: October 10, 2016