Inside the Pages of RAD WOMEN WORLDWIDE with Ten Speed Press' Julie Bennett and Author Kate Schatz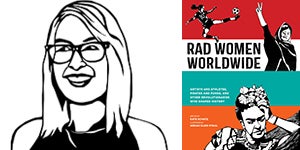 Julie Bennett, Vice President, Editorial Director, Ten Speed Press, and author Kate Schatz take us inside the pages of RAD WOMEN WORLDWIDE, which tells fresh, engaging, and inspiring tales of perseverance and radical success by pairing well researched and riveting biographies with powerful and expressive cut-paper portraits by illustrator Miriam Klein Stahl. From 430 BCE to 2016, spanning 31 countries around the world, the book features an array of diverse figures, showing the immense range of what women have done and can do.  Read on as Julie and Kate share their insights.
The combination of text and art in RAD WOMEN WORLDWIDE is very unique and striking. What initially brought you into contact with Kate and Miriam and how would you describe the editorial process of working with them as this book came to be?
Julie Bennett: I first learned about Kate and Miriam via their New York Times-bestselling book, Rad American Women A-Z. When Miriam's agent, an old friend of mine, contacted me about doing an internationally focused follow-up, I was immediately on board. The process of making RAD WOMEN WORLDWIDE  was both creative and collaborative. Kate and Miriam have an abundance of ideas and work very quickly, so we spent a good amount of time trying to narrow down the list of women to feature in the book, and then share their histories completely but concisely. There are so many important stories to tell, we could fill five more books with the ladies we had to leave out. (The list of 250 "more rad women" at the back of the book introduces readers to many of them.) The most powerful element in the book for me is the final profile, called "The Stateless." It shines a light on the millions of women around the world who are refugees, displaced, or seeking asylum. The idea for this piece developed relatively late in the editorial process, and at first I wasn't sure we'd have room to include it. But after everyone on the book team cried while reading Kate's words, we knew we had to make it fit.
What sparked the ideas and concepts for Rad Women A-Z, then RAD WOMEN WORLDWIDE?
Kate Schatz: I got the idea for the first book when my daughter was two years old. I wanted her to have the kind of book I would've loved as a kid—something empowering and inspiring and fun to read. When I reached out to Miriam, an artist whose work I greatly admire, she felt the same. And so we made it happen! As a feminist and a history-lover, a book about cool women from American history was a joy to create; as a new parent whose bookshelves were inundated with A-Z books, the concept for the format came easily. For the second book we knew we wanted to go worldwide—it's what many of our readers, young and older, requested. It felt like an exciting challenge for us, and in a time of rising nationalism and xenophobic around the world, we knew it was an important approach to take.
What was the criteria for selecting the women to profile in RAD WOMEN WORLDWIDE  and what did you want to emphasize in words and art?
KS: We strive to include a diverse and unexpected array of women who have one thing in common: a story of inspiring perseverance against great odds. We include women from every continent and region of the world, and combine well-known figures with more obscure ones. 30 out of the 40 stories are about non-white women, and that commitment to diverse storytelling is important to use. We also showcase women who succeeded in an array of fields, from sports to science to political leadership. Through the illustrations and the narratives, we want to create compelling figures whose stories are engaging and relatable, no matter where they're from or how long ago they lived. We want to emphasize the strength, power, and complexity of these women.
Who do you see as the primary reading audience for RAD WOMEN WORLDWIDE  and what aspects of the book do you think will resonate most strongly with readers?
KS: If I had to choose, I'd say that the sweet spot for this book is age 12—but the success of our first book showed us just how challenging it is to predict who our primary reading audience is! We really wanted to create and aesthetic and narrative experience that would appeal to a wide range of ages. I know parents who read these books to their preschoolers, I know college kids who have them in their dorms, and I know older adults who bought them for their grandkids—and then decided to keep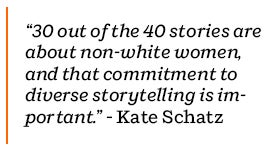 them! I think that stories of strong women, many of whom are underappreciated, resonate with lots of readers. Another powerful aspect that's been exciting to witness since Rad Women Worldwide came out a few weeks ago is what it means to young people who are immigrants, or the children of immigrants, to find their countries and cultures represented in the book. RAD WOMEN WORLDWIDE only tells 40 stories from 31 countries, but in the back of the book we include a list of 250 more women from almost every country in the world. We did a visit to a middle school in Queens recently and students were flipping through the pages, and exclaiming with joy when they found the name of someone from their home country. That was amazing to see.
JB: The book was written primarily for a young adult audience, but adults are also coming to it for the bold and graphic art and stories of both known and less familiar women. Parents are using it for bedtime stories for their daughters, and educators will want to share these profiles with girls and boys to illustrate what's possible when one has purpose and dedication. This also makes a powerful and positive gift for girls of all ages, who will be inspired to connect to their own passions, find their true selves, and help make a better future for all of us.
Posted: November 2, 2016