Inside the "Podcasting at Penguin Random" Speakers Series Event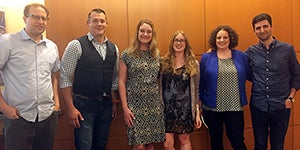 The "Podcasting at Penguin Random" Speakers Series event, which was presented on May 24 at 1745 Broadway's Café Auditorium, featured a terrific panel of talented in-house podcasters: Karen Dziekonski (Executive Producer, Audio, and co-host of "This is the Author"), Lindsay Jacobsen (Associate Manager, Consumer Engagement, and co-host of "Beaks and Geeks"),  Pat Stango (Senior Producer, Video, and host of "How to Watch Movies the Right Way"),  Abbe Wright (Read it Forward Editor, and host of "Book Club Appetizer"), and Dan Zitt (Vice President, Content Production, Penguin Random House Audio, and co-host of "This is the Author"). The panel was moderated by Michael Goldsmith, Publicity Manager, Doubleday, who kept things moving at a brisk pace, sparking many interesting insights. Pictured left to right: Pat Stango, Dan Zitt, Abbe Wright, Lindsay Jacobsen, Karen Dziekonski and Michael Goldsmith.
Here are some highlights: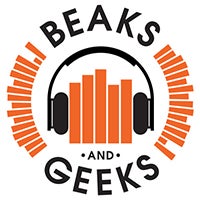 Lindsay Jacobsen has produced 121 episodes of the author podcast Beaks & Geeks with her co-host Amy Brinker, garnering an international audience and thousands of downloads per month. Lindsay revealed that her favorite episode features Blue Rider Press author, Damien Echols, who was falsely convicted of three murders and spent nearly eighteen years on Death Row. Beaks & Geeks fosters candid conversations, and Mr. Echols shares gut-wrenching details about his unfathomable incarceration and poignant love letters to his wife, Lorri, in episode #22.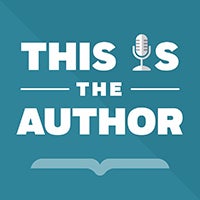 Dan Zitt said, "We'll do whatever it takes to sell audiobooks," and the "This Is the Author" podcasts are presented in a way that draws in listeners to Penguin Random House Audio titles. Karen Dziekonski revealed, "We'll spend three or four days immersed in the recording studio, working with our team, making sure all of the details for each production sound just right." Among the recent episodes of "This Is the Author" are entertaining commentaries from such Penguin Random House authors as Moby (PORCELAIN), James Renner ( TRUE CRIME ADDICT), Andi Dorfman (IT'S NOT OKAY) and Rich Cohen (THE SUN & THE MOON & THE ROLLING STONES).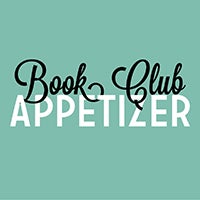 Abbe Wright, Read It Forward's editor, produces and hosts Book Club Appetizer, featuring fifteen-minute "snack-able podcasts to kick off your book club meetings, or enhance your solo reading adventures." The current "Appetizer" podcast of the moment: a Q&A with author Camille Perri on her new book  THE ASSISTANTS (G.P. Putnam's Sons). Abbe said, "At ten minutes,  the interview is a 'light lift' for authors. And with one episode a month, I can coordinate timing with books' release dates and have the next six months mapped out."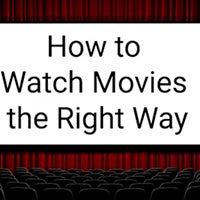 Pat Stango admitted that his podcast, "How to Watch Movies the Right Way," "is not about books. But I tell people to watch the movies AND read the books." And while he will discuss individual big and small films, he will also focus on a body of work, such as the Star Wars franchise, and presents fun features such as the "Summer Movie Fantasy Draft!"
The event concluded with a lively audience Q&A.
Posted: May 31, 2016