International Report: Penguin Random House India Kicks Off 30th Anniversary Celebrations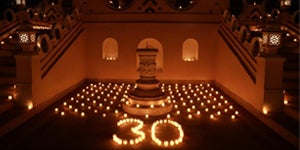 Penguin Random House India turns 30 this year and kick-started its anniversary celebrations at one of India's largest literary events of the year, the Jaipur Literature Festival.  As part of the festivities, Penguin introduced the iconic orange pop-up cart and a new range of quirky merchandise and collectibles as well as top bestsellers in India from the last 30 years.
Hemali Sodhi, Senior Vice President, Marketing, and Publisher, Children's, Penguin Random House India, filed the following report:
The highlight of the festival was the Penguin pop-up cart, a mobile treasure trove of some of our most loved books and collectibles that bibliophiles can relate to. The cart is also part of our ongoing campaign for the year – #KeepReading – aimed at promoting reading anywhere, anytime, and providing a variety of reading content across genres to literary enthusiasts. Authors such as Sunil Khilnani, Devdutt Pattanaik, Ravinder Singh, and Sanjay Barua as well as other renowned personalities made appearances.
In a country such as ours, where a huge proportion of the audience is still not online, there is a big opportunity that an offline mobile cart brings with it, standing out from the crowd of brands trying to compete for attention. It created a buzz around the message of reading and is a great medium to engage with customers better in an attempt to understand their book interests face to face.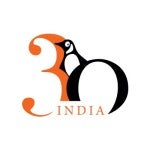 Some of the other highlights included the brand new Penguin Tent featured a traditional Rajasthani avatar, replete with ambis and camels. We also unveiled our 30th anniversary logo as part of the tent décor and anniversary titles –  an alluring selection of India's most brilliant and visionary writing in the English language published over the last 30 years – including timeless classics like Kalidasa'sKumarasambhavam and Nehru's An Autobiography as well as much-loved fiction like Vikram Seth's The Golden Gate, Amitav Ghosh's Sea of Poppies and Jhumpa Lahiri's Unaccustomed Earth, among others.
We also launched an interesting contest – #KeepTweeting – India's first ever crowd-sourced Twitter book. The contest was launched by giving out the first line of the story and inviting users to keep adding on to the next lines till the story was complete. The idea was to create the first ever short story with 30 lines to commemorate our 30th anniversary in India. In addition to this, we also urged people visiting the festival to tweet their memories and pictures along with the five key elements at the Diggi Place – Kulhar Chai, Trees, Durbar Hall, Rajasthani food, and books.
Festivities concluded with the inimitable Penguin Party at Sujan Rajamahal Palace, graced by a who's-who of the literary circuit. To commemorate our 30th anniversary celebrations in India, Glenfiddich curated a special cocktail aptly named "The Flying Penguin," created exclusively for the grand occasion. A special 3D tasting arena was set up by Glenfiddich for the guests to enjoy. As each Glenfiddich variant was poured into glasses, 3D projections on the table demonstrated the tasting notes and aging techniques of the drink.
The year of India 30th celebrations has just begun for us, and there's a lot more to watch out for throughout the year. Stay tuned for the latest news about our continuing birthday celebrations!
Posted: February 13, 2017