International Report: Penguin Random House India Wins Social Media Award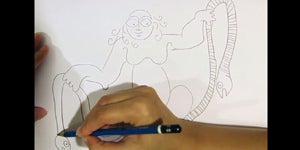 Our colleagues at Penguin Random House India are celebrating their prize in the Social Samosa Awards for Best Social Media Brands 2016 competition, receiving a Silver Award in the "Media and Entertainment" category.
Rukun Kaul, Digital Lead at Penguin Random House India, says: "We're delighted with this recognition. This is a testament to our vision to make our social media channels forums where we engage with readers and followers on ideas that matter to them while keeping them entertained and engaged … Of course, next year we'll be aiming for the Gold!"
Here are examples of Penguin Random House India's social media innovation:
An inventive documentary-style book trailer was created to promote author Amitav Ghosh's book on climate change, The Great Derangement, his first nonfiction title in ten years. View the trailer here. The social media team also hosted three Twitter panel discussions, with experts joining from all across the world and reaching an unprecedented global audience (14 million for the final panel) and creating an impactful conversation around the topic of climate change.
A short movie called The Dinner on 'love outside relationships' was produced for bestselling romance writer Ravinder Singh's new book, This Love that Feels Right, which revolved around the idea of adultery. Watch The Dinner via Facebook here.
Short time-lapse line-illustration videos were produced to promote a new book by bestselling Mythology author Devdutt Pattanaik, presenting Indian mythology in the most accessible way with striking Indian-style line-drawings. Watch the selected drawings being redrawn here
The Indian online platform Social Samosa observes, discusses and investigates current trends and developments in social media marketing. With its inaugural awards, announced via Facebook Live, Social Samosa recognized social media excellence in 16 categories.
Posted: May 10, 2017