Introducing CRIMINAL TYPES, a Crime Fiction Podcast from Knopf Doubleday & Penguin Random House Media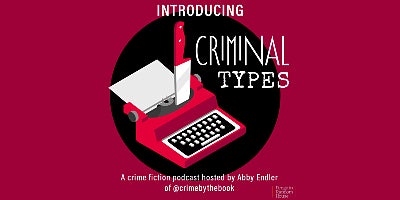 Knopf Doubleday Publishing Group and Penguin Random House Media are proud to announce the launch of season 1 of a brand-new crime fiction podcast Criminal Types. The first episode of the podcast dropped May 9 with special guest John Grisham. Criminal Types is recorded in the PRH Podcast Studio and celebrates all the incredible talent at  Penguin Random House through deep-dive conversations with bestselling thriller writers and up-and-coming stars alike.
Over the past year Gabrielle Brooks, VP Executive Publicity Director, Knopf Doubleday Publishing Group & Special Projects and Abby Endler, Senior Publicist, Knopf Doubleday have been working with Pat Stango, Senior Director, Media Production & Development, PRH to produce Criminal Types. The podcast is hosted by Abby and creator of the largest crime fiction dedicated Instagram account: Crime by the Book.  Criminal Types was announced on Crime by the Book yesterday — take a look at this post to see some of the amazing early reactions already rolling in!
Criminal Types is a podcast for anyone obsessed with crime stories. From serial killers to legal thrillers, haunted houses to murder mysteries, Criminal Types digs into the real-world cases, research, and obsessions that keep our favorite crime writers up at night. Season 1 of Criminal Types will include 10 episodes covering everything from hands-on research at a body farm to the Dixie Mafia, growing up in a haunted house, and lots more.
A second episode of Criminal Types will drop tomorrow, Thursday, May 11!  After that, new episodes will air every Tuesday.
Full lineup of Season 1 guests:  John Grisham, Isabel Cañas, Lisa Gardner, CJ Tudor, Simone St. James, Amanda Jayatissa, Riley Sager, Clemence Michallon, Jo Nesbø.
Plus: a very special season finale episode featuring a conversation with our own Jennifer Barth, Senior Vice President, Executive Editor, Knopf.
Abby Endler & Gabrielle Brooks said, " We also want to give a huge thank you to our colleagues at KDPG who have been so supportive of this project. A special shoutout to Judy Jacoby, Kelsey Manning, Laura Keefe, Min Goto, and Jackie Lalli for helping to create podcast assets, design our beautiful logo, come up with a name for the podcast, and so much more. Our theme music for the podcast also comes courtesy of Knopf author Jonathan Meiburg."
Listen to Criminal Types wherever you listen to podcasts!
Posted: May 10, 2023