Iranian Poet Garous Abdolmalekian to Talk About His Poetry on Twitter (4/16)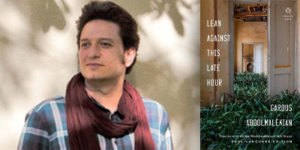 Iranian poet Garous Abdolmalekian, whose latest collection is LEAN AGAINST THIS LATE HOUR (Penguin Books), will be in conversation with his translators, Idra Novey and Ahmad Nadalizadeh, moderated by Poets House's Paolo Javier. The event will be livestreamed on Poets House's Twitter, on April 16 at 2:00 pm (ET), then posted on their Archive, Facebook and YouTube.
LEAN AGAINST THIS LATE HOUR is the first selection of poems by renowned Iranian poet Garous Abdolmalekian to appear in English, this collection is a mesmerizing, disorienting descent into the trauma of loss and its aftermath. In spare lines, Abdolmalekian conjures surreal, cinematic images that pan wide as deftly as they narrow into intimate focus. Time is a thread come unspooled: pain arrives before the wound, and the dead wait for sunrise.
!!A reminder for PRH employees: If you are posting this article to a personal or other non-PRH account you must include the hashtag #TeamPRH.!!
Posted: April 15, 2020