Irby's WOW, NO THANK YOU. An Instant Vintage #1 NY Times Bestseller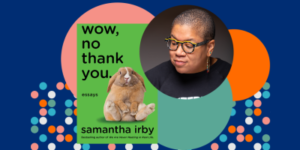 Readers looking for a "laugh-out-loud masterpiece…. The perfect read at a time when we all could use a little comic relief" (AP) have found their new favorite book with Samantha Irby's WOW, NO THANK YOU. Irby's third collection of personal essays, published on March 31 as a Vintage Paperback Original, debuts on the April 19 New York Times Trade Paperback Nonfiction Bestseller list at #1.
Suzanne Herz, EVP and Publisher of Vintage Books and Anchor Books, congratulated the Irby team: "Every publisher hopes to bring out just the book people need at just the right moment, so we couldn't be happier to have Samantha Irby's voice in her new book, right when we all need good laughs. Number 1 on the New York Times nonfiction paperback list, and #7 on the combined, not to mention #1 on the National Indie bestseller list. I only wish we could all celebrate together in person—and we will, someday soon—but for now, we have great books like Sam Irby's to carry us through."
In a New York Times daily rave published on April 2, daily reviewer Parul Sehgal wrote: "If, in the grips of the pandemic, your ability to interpret an exponential graph has increased, well, exponentially, while your patience for narrative has plummeted, try Samantha Irby. Pick up her new essay collection, Wow, No Thank You (as fitting a response to 2020 as I can imagine)… She might be our great bard of quarantine."
Based in Kalamazoo, Michigan, Irby writes the blog "bitches gotta eat" and the newsletter "who's on judge mathis today?" She has written for the Hulu series Shrill and keeps followers up to date on Twitter @wordscience. Her debut essay collection, MEATY, was first published by a small press in 2013, was named a B&N Discover selection, and grew to become a cult favorite (it was re-published by Vintage in 2018). Her follow-up, WE ARE NEVER MEETING IN REAL LIFE, was published as a Vintage Original in 2017, spending three weeks on the New York Times bestseller list, climbing as high as #7.
Irby's editor at Vintage, Maria Goldverg, is especially excited for readers who will be discovering Samantha Irby for the first time with WOW, NO THANK YOU. "Our author is a treasure to read and to know personally, and we here could not be happier over the critical and fan reception she has earned for her third essay collection. From the first page she had me laughing and crying over her uncompromising portrayals of the little cringeworthy moments that make up so much of our everyday lives."
Anyone who thinks success will dampen Irby's sense of humor is mistaken: "Being #1, after building a career writing about #2s," she said, "is incredible."
Most of our author's upcoming virtual events are already sold out, but you can still claim a spot for her April 25 Politics & Prose Crowdcast event by clicking here.
Photo of Samantha Irby by Ted Beranis
Posted: April 13, 2020