"It Takes a Village" — a Composting Story from Miami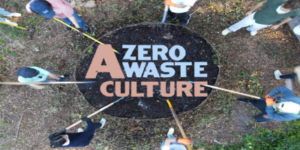 This article was written by Gloria Noriega, Senior Manager, Sales, Grupo Editorial.
They say it takes a village, but it also takes a leader with vision and unwavering determination! My neighbor, Helena Iturralde, originally from Spain, was appalled by the excessive use of single-use plastics and waste when she moved to Miami. With the help of a dedicated team of volunteers and sponsors, Helena founded A Zero Waste Culture (AZWC), a nonprofit group dedicated to engaging communities in programs to help mitigate climate change and promote self-sufficiency. 
Among many of her organization's projects, the community compost program stands out as a strong grassroots initiative that has yielded unbelievable results.! Since its inception, the community compost program led by AZWC has diverted 76.17 tons of organic waste from landfills, converting it into nutrient-rich soil. The project's core goals include reducing food waste, methane emissions, and chemical runoff.  
As a non-profit organization, AZWC focuses on combating climate change through education and community engagement. The compost program asks that each member keep a green bucket they receive upon joining the program (and making a small monthly donation) where they collect food scraps during the week and then drop off each Saturday at a special AZWC tent at the Farmers Market at the Key Biscayne Community Church. 
The food scraps are then transported to Bill Baggs State Park, where thanks to Art Yertian, the parks' late manager, the non profit has a designated area where the compost can be turned into soil. There it is manually added to the different rings, mixed with mulch, water, and stirred by the volunteers. All of this is possible because of the professional guidance of Gardens and Composting, as well as  Art and his willingness to create space for us.
A key aspect of the program involves educating younger generations and equipping them with the tools they need to make a sustainable impact on climate change. High school students join for volunteer hours but often become deeply committed to the cause and form strong friendships. Many of them have gone on to pursue careers and school electives related to sustainability and the environment.  
The program started modestly with one composting ring and a few members, but it has since expanded to include nearly 200 members and a few participating restaurants. The goal is to have all 55 restaurants in the community of Key Biscayne participating.
To accommodate this growth, AZWC plans to have two composting methods moving forward—one for educational purposes where compost will continue to be manually stirred and another that employs mechanical stirring equipment for larger-scale composting.  
A Zero Waste Culture started off as an individual's project and became a collective effort which serves as inspiration for us all to think about the roles we can play in creating empowered communities! 
Posted: September 22, 2023