"It was Time to Tell the Truth." Welcome to John Hodgman's VACATIONLAND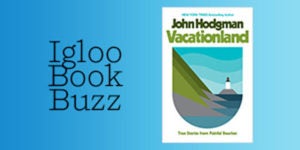 Peddling fake facts was John Hodgman's stock in trade on The Daily Show with Jon Stewart and in his three bestselling books.  That all changed with the release of VACATIONLAND: True Stories from Painful Beaches, published by Viking on October 24 and featured as this week's Igloo Book Buzz selection.  Hodgman writes about his journeys, navigating three distinct wildernesses: one, rural Western Massachusetts where he spent much of his youth; two, coastal Maine, home to the most painful beaches on earth; lastly, the metaphoric wildernesses of middle age.  
Hodgman says, "My first three books were, first of all, BESTSELLERS, and second of all, packed to the margins with absurdist false history and invented trivia.  It was fun writing about the secret history of the nine US presidents who had hooks for hands.  But after my third book of false knowledge, THAT IS ALL, came out, I looked up and realized I was 40. I had changed, and the world was changing as well. Now EVERYONE is doing fake facts, at every level of our media and society. It's neither new nor funny anymore. And disarmed of falsehood, I was confronted with the mere and awful truth: that I am a dad, husband, and middle-aged white male monster with bad facial hair facing down the second half of his life (or so I hope) who could not think of one more single joke about zeppelins or mole-men. It was time to tell the truth."
Hodgman answers the following three questions truthfully: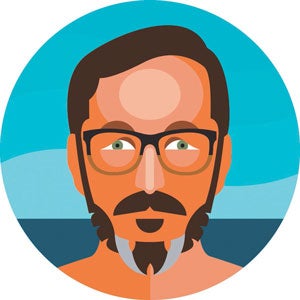 The book's title VACATIONLAND refers to the nickname for Maine, but you also focus many of the chapters on the "vacationland" of your youth (Western Massachusetts) in addition to your wife's (Maine), where you now spend much of your time. Do you think having those escapes can be formative in both childhood and adulthood? How has it shaped you throughout your life?
"Joe McLellan was the permanent French department substitute when I was attending Brookline High School. I liked him. He once told me that the academic calendar—9 months on to work hard, 3 off to recover and reflect—is the most suitable calendar for human happiness.  And he rode a motorcycle and wore a beret, so he knew what he was talking about.  I'm lucky to have married a teacher and to be sufficiently self-employed that, for now, we get to share time and travel with our kids. It is important to show them different people and ways of life, and to learn how easily one life can be left behind if it doesn't make you happy."
Why do you compare middle age to "navigating a wilderness?"
"Being in middle age feels like following a path in the forest that was very clear and easy for a while. If you're lucky, you reach some destination you were hoping for. But even if you don't, time passes, and before you know it, night comes and you are scared. You can't follow the path back, and you don't know which direction to take next, or if it is better to simply stop here forever. But you have to keep going. After you have reached the age which, in previous centuries would have marked the likely end of your life, you have to find a new path forward. Like the wilderness, age is painful, full of unexpected drops and heights, and it doesn't care whether you live or die. Another good metaphor for it would be MAINE."
You describe Maine as a hellish place, but seem to have a deep fondness for it. What is it about the state that can cause such conflicting feelings?
"It is undeniably beautiful, but its beauty is rugged bordering on harsh, and the sky gets gray quick and the fog envelops you. See above: it has metaphoric power if you are morbidly minded.  And then it reveals incredible beauty in the rose light across more sky than you are used to seeing. You swim in the ocean and scream from the cold but then you get used to it. Maine's pleasure is that you survive it. "
Posted: October 26, 2017