Jacqueline Woodson: "I Want People to Step Inside My Stories and Find Some Part of Themselves"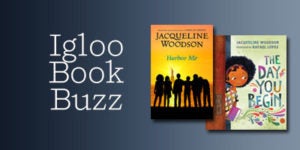 Our new Igloo Book Buzz selections are HARBOR ME and THE DAY YOU BEGIN, on sale August 28, published by Nancy Paulsen Books. Both titles feature Jacqueline Woodson's lyrical writing and explore themes of building bridges and sparking empathy.
HARBOR ME, Woodson's first middle-grade novel since BROWN GIRL DREAMING, introduces a valiant group of classmates who find a common bond by opening up about things they usually don't discuss—whether it's fear of being deported, racially profiled, or being judged by their accents, skin color, or parental heritage. In their starred review, Booklist says, "Woodson tells stories torn from headlines but personalizes them with poetry and memories, blunting their trauma with understanding and love. . . . These children become each other's safe harbors and Woodson brilliantly shows readers how to find the connections we all need," and Publishers Weekly declares, "This novel will leave an indelible mark on readers' minds." HARBOR ME is a Fall Indie Next pick and has received four starred reviews.
In THE DAY YOU BEGIN Woodson teams up with two-time Pura Belpré Illustrator Award winner Rafael López to create a poignant, yet heartening picture book about what it is like to be a new kid and feel different. Woodson's moving text and López's dazzling art remind readers that everyone can feel like an outsider, but by showing courage and sharing stories, kindred spirits can be found.
The New York Times Book Review named THE DAY YOU BEGIN an Editor's Pick, calling it a "verbally and visually poetic book." A Top 10 Fall Indie Next Pick, the book has received four starred reviews, including from Kirkus, who called it "A must-have book about the power of one's voice and the friendships that emerge when you are yourself," while School Library Journal called it "A beautiful and inclusive story that encourages children to find the beauty in their own lives and share it with the world."
Says Woodson, "For so many of us, books have always been balms both protecting and enlightening us. With my forthcoming books, I want first and foremost to tell great stories and put resonating characters on the page. I also want young people (and all people) to be able to step inside my stories and find some part of themselves. I think that through reading comes empowerment and, ultimately, healing."
2018 has been an exceptional year of milestones and accolades for Woodson. This year marks the 20th anniversary of her novel, IF YOU COME SOFTLY, chosen as the inaugural Penguin Random House Reads selection. In January she was named the 2018-2019 National Ambassador for Young People's Literature and during her tenure she is promoting her platform, "READING = HOPE x CHANGE (What's Your Equation?)" This platform encourages young people to think about—and beyond—the moment they are living in, the power they possess, and the impact reading can have on showing them ways in which they can create the hope and the change they want to see in the world. February brought news of the Children's Literature Legacy Award, honoring Woodson's significant and lasting contribution to children's literature. And in March, Woodson was named the 2018 Astrid Lindgren Memorial Award Laureate, the world's largest award for children's and young adult literature.
Last week, National Book Award–winning author Woodson was named to the Frederick Douglass 200, a list of 200 people who best embody the spirit and work of Frederick Douglass. In its spotlight on Woodson the committee says, "Woodson's books are recognized for their diverse characterization of young people and relationships. She spotlights diverse gender expressions, representing multidimensional female and transgender protagonists. Woodson confronts themes of race, socio-economic status, and LGBT experience."
This week, Woodson sets off on a national tour including Gala and Keynote spots at the National Book Festival and Texas Book Festival.
Posted: August 28, 2018