Jacqueline Woodson Named the 2020 Recipient of the Hans Christian Andersen Award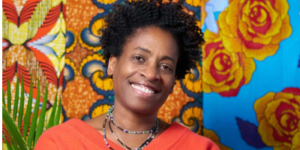 Jacqueline Woodson has been named the 2020 recipient of the Hans Christian Andersen Award, the highest international recognition given to an author and an illustrator of children's books. The dossier submitted for her nomination notes that all Jacqueline Woodson's books "feature lyrical language, powerful characters, and an abiding sense of hope. The dialogues are pitch perfect, the stories are raw and fresh, and the endings satiate the reader."
Given every other year by IBBY, the Hans Christian Andersen Awards recognize lifelong achievement and are presented to an author and an illustrator whose complete works have made an important, lasting contribution to children's literature.
The Author's Award has been given since 1956 and the Illustrator's Award since 1966. The Award consists of a gold medal and a diploma, presented at a festive ceremony during the biennial IBBY Congress, which will take place in Moscow in 2021.
Jacqueline Woodson was the 2018–2019 National Ambassador for Young People's Literature. She received the 2018 Astrid Lindgren Memorial Award and Children's Literature Legacy Award. Her New York Times bestselling memoir, Brown Girl Dreaming, won the National Book Award, as well as the Coretta Scott King Award, a Newbery Honor, and the NAACP Image Award. She also wrote the adult books Red at the Bone, a New York Times bestseller, and Another Brooklyn, a 2016 National Book Award finalist. Her many books for young readers include New York Times bestseller Harbor Me, Newbery Honor winners Feathers, Show Way, and After Tupac and D Foster, and the picture books Each Kindness and The Day You Begin, which both won the Jane Addams Children's Book Award.
Photo of Jacqueline Woodson © Tiffany A. Bloomfield
Posted: May 5, 2020