Jacqueline Woodson Reads BROWN GIRL DREAMING on Facebook Live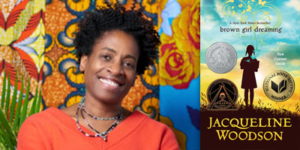 Join Jacqueline Woodson as she reads her National Book Award-winning BROWN GIRL DREAMING (Nancy Paulsen Books) every week day at 10:30 am (EST) on Facebook Live.
Raised in South Carolina and New York, Woodson always felt halfway home in each place. In BROWN GIRL DREAMING, with her vivid poems, she shares what it was like to grow up as an African American in the 1960s and 1970s, living with the remnants of Jim Crow and her growing awareness of the Civil Rights movement. Touching and powerful, each poem is both accessible and emotionally charged, each line a glimpse into a child's soul as she searches for her place in the world. Woodson's eloquent poetry also reflects the joy of finding her voice through writing stories, despite the fact that she struggled with reading as a child. Her love of stories inspired her and stayed with her, creating the first sparks of the gifted writer she was to become.
Woodson is the bestselling author of more than two dozen award-winning books. Her New York Times–bestselling memoir, BROWN GIRL DREAMING, received the National Book Award in 2014. Woodson is also the 2018–2019 National Ambassador for Young People's Literature and the recipient of the 2018 Astrid Lindgren Memorial Award and the 2018 Children's Literature Legacy Award. In 2015, she was named the Young People's Poet Laureate by the Poetry Foundation. She lives with her family in New York.
!!A reminder for PRH employees: If you are posting this article to a personal or other non-PRH account you must include the hashtag #TeamPRH.!!
Posted: April 8, 2020