Jacqueline Woodson Receives a MacArthur "Genius Grant"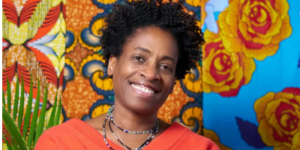 Penguin Random House author Jacqueline Woodson is among the 2020 MacArthur Fellows, it was announced by the MacArthur Foundation. This prestigious fellowship (often referred to as the "Genuis Grant") honors "talented individuals who have shown extraordinary originality and dedication in their creative pursuits" and comes with a no-strings-attached grant of $625,000.
Cecilia Conrad, Managing Director, MacArthur Fellows, commented, "In the midst of civil unrest, a global pandemic, natural disasters, and conflagrations, this group of 21 exceptionally creative individuals offers a moment for celebration. They are asking critical questions, developing innovative technologies and public policies, enriching our understanding of the human condition, and producing works of art that provoke and inspire us."
Woodson was praised by the Foundation for "redefining children's and young adult literature to encompass more complex issues and reflect the lives of Black children, teenagers, and families."
"I don't want it to be overlooked that for me, it's been about creating a road where, as a young reader, there wasn't one," Woodson says. "I wanted to see myself in books because I couldn't believe the audacity of a 'canon' of young people's literature conjuring me invisible. I wanted to say to my young self 'You're loved. You're beautiful. You're complicated. You matter.' I know that by saying this to myself with each book I write, I am saying it to every reader who has ever felt otherwise."
Jacqueline Woodson is a writer redefining children's and young adult literature in works that reflect the complexity and diversity of the world we live in while stretching young readers' intellectual abilities and capacity for empathy. In nearly thirty publications that span picture books, young adult novels, and poetry, Woodson crafts stories about Black children, teenagers, and families that evoke the hopefulness and power of human connection even as they tackle difficult issues such as the history of slavery and segregation, incarceration, interracial relationships, social class, gender, and sexual identity.
Congratulations to Ms. Woodson.
To view the complete list of this year's MacArthur Fellows, click here
The John D. and Catherine T. MacArthur Foundation supports creative people, effective institutions, and influential networks building a more just, verdant, and peaceful world. MacArthur is placing a few big bets that truly significant progress is possible on some of the world's most pressing social challenges, including over-incarceration, global climate change, nuclear risk, and significantly increasing financial capital for the social sector.
Posted: October 7, 2020