Jacqueline Woodson to Read From EACH KINDNESS (4/2)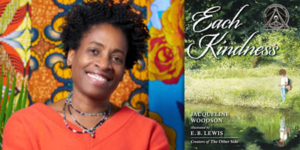 Jacqueline Woodson (@Jacqueline.Woodson) will read EACH KINDNESS (Nancy Paulsen Books) Thursday, April 2, on Facebook Live at 3:00pm (ET).
Each kindness makes the world a little better, as demonstrated in Woodson's award-winning EACH KINDNESS, illustrated by E.B. Lewis. With its powerful anti-bullying message and striking art, this quiet, intense picture book is about the small actions that touch children of all ages.
Jacqueline Woodson is the bestselling author of more than two dozen award-winning books, including the 2016 New York Times–bestselling National Book Award finalist for adult fiction, Another Brooklyn. Among her many accolades, Woodson is a four-time National Book Award finalist, a four-time Newbery Honor winner, a two-time NAACP Image Award Winner, and a two-time Coretta Scott King Award winner. Her New York Times–bestselling memoir, Brown Girl Dreaming, received the National Book Award in 2014. Woodson is also the 2018–2019 National Ambassador for Young People's Literature and the recipient of the 2018 Astrid Lindgren Memorial Award and the 2018 Children's Literature Legacy Award. In 2015, she was named the Young People's Poet Laureate by the Poetry Foundation.
Posted: March 30, 2020