James Whiteside to Launch His New Book With Fellow ABT Dancer Isabella Boylston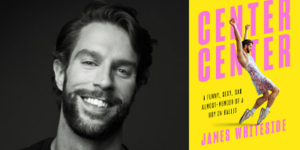 James Whiteside, author of CENTER CENTER: A Funny, Sexy, Sad, Almost-Memoir of a Boy in Ballet (Viking), will launch his new book in conversation with fellow American Ballet Theatre dancer Isabella Boylston at a virtual & in-person event, co-presented by The Strand Bookstore (at Columbus Circle, NYC) and the ABT, on Tuesday, August 17 at 7:00 pm (ET).
To register for a ticket, click here.
There's a mark on every stage around the world that signifies the center of its depth and width, called "center center." James Whiteside has dreamed of standing on that very mark as a principal dancer with the prestigious American Ballet Theatre ever since he was a twelve-year-old blown away by watching the company's spring gala.
In his memoir-in-essays, Whiteside tells the story of how he got to be a primo ballerino—stopping along the way to muse about the tragically fated childhood pets who taught him how to feel, reminisce on ill-advised partying at summer dance camps, and imagine fantastical run-ins with Jesus on Grindr. Also in these pages are tales of the two alter egos he created to subvert the strict classical rigor of ballet: JbDubs, an out-and-proud pop musician, and Ühu Betch, an over-the-top drag queen named after Yoohoo chocolate milk.
James Whiteside is a principal dancer with American Ballet Theatre, a pop star, and a member of the NYC-based drag posse the Dairy Queens, which also includes RuPaul's Drag Race alum Milk. He has choreographed for music videos, commercials, film, and ballet, and in 2018, he starred in Arthur Pita's dance/theater work The Tenant at The Joyce Theater in New York City. Whiteside also hosts his own popular podcast, The Stage Rightside with James Whiteside. His song and music video "I Hate My Job" has been featured in The New York Times, Huffington Post, MTV, and Billboard, among other media outlets.
!! As a reminder, if you are posting to a personal or other non-PRH account you must include the hashtag #TeamPRH. !!
Posted: August 16, 2021