Jami Curl Shares Recipes from BAKING GOLD (4/2)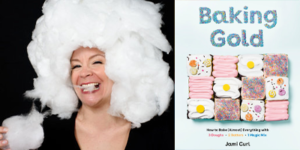 Jami Curl will discuss and share recipes from BAKING GOLD (Ten Speed Press) on Random Pantry on Thursday, April 2 at 4:00pm (EST) on Instragram @RandomHouse.
An experienced pastry chef, home baker, and also the author of Candy Is Magic, Jami Curl is winner of the IACP Cookbook Award in Baking. Jami was named one of Fast Company's 100 most creative people in food, and her work has been featured in Food + Wine, Gourmet, Good Housekeeping, Real Simple, Martha Stewart, Martha Stewart Weddings, Sunset, O: The Oprah Magazine, The Wall Street Journal, The New York Times, and many more.
Posted: March 30, 2020