Jamil Zaki Talks about THE WAR FOR KINDNESS with The Great Courses via Facebook Live (4/28)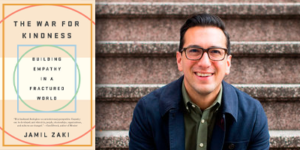 Jamil Zaki, author of THE WAR FOR KINDNESS: Building Empathy in a Fractuerd World (Broadway Books), in conversation with The Great Courses, via Facebook Live on Tuesday, April 28 at 3:00pm (ET).
In this groundbreaking book, Zaki shares cutting-edge research, including experiments from his own lab, showing that empathy is not a fixed trait—something we're born with or not—but rather a skill that can be strengthened through effort. He also tells the stories of people who embody this new perspective, fighting for kindness in the most difficult of circumstances.
Zaki is a professor of psychology at Stanford University and the director of the Stanford Social Neuroscience Laboratory. His writing has appeared in The New York Times, The Washington Post, The New Yorker, and The Atlantic.
!!A reminder for PRH employees: If you are posting this article to a personal or other non-PRH account you must include the hashtag #TeamPRH.!!
Posted: April 27, 2020