Jane Fonda Shares Insights Into Her New Book, "WHAT CAN I DO? My Path From Climate Despair to Action," via Zoom (10/1)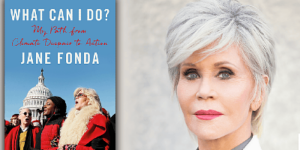 Jane Fonda will discuss her new book, WHAT CAN I DO? My Path From Climate Despair to Action (Penguin Press), at a virtual event hosted by the Temple Eman-uel Streicker Center via Zoom on Thursday, October 1 at 6:30 pm (ET).
In WHAT CAN I DO?, Fonda weaves her deeply personal journey as an activist alongside conversations with and speeches by leading climate scientists and inspiring community organizers, and dives deep into the issues, such as water, migration, and human rights, to emphasize what is at stake. Most significantly, Fonda equips us all with the tools we need to join her in protest, so that everyone can work to combat the climate crisis.
100% of the author's net proceeds from WHAT CAN I DO? will go to Greenpeace
Jane Fonda is a two-time Oscar winner and an Emmy award–winning actress and a political activist. She sits on the boards of V-Day: Until the Violence Stops, the Women's Media Center (which she cofounded in 2004), the Georgia Campaign for Adolescent Power & Potential, and Homeboy Industries. She lives in Los Angeles.
!! As a reminder, if you are posting to a personal or other non-PRH account you must include the hashtag #TeamPRH !!
Posted: September 30, 2020