Jane Smiley to Discuss PERESTROIKA IN PARIS with Teresa Genaro via Zoom (12/8)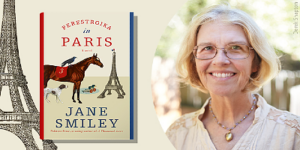 Jane Smiley, author of PERESTROIKA IN PARIS (Knopf), will discuss her new novel with freelance racing journalist Teresa Genaro at a virtual event hosted by Northshire Bookstore via Zoom on Tuesday, December 8 at 5:00 pm (ET).
From the Pulitzer Prize-winning and bestselling author comes a captivating, brilliantly imaginative story of three extraordinary animals–and a young boy–whose lives intersect in Paris.
Paras, short for "Perestroika," is a spirited racehorse at a racetrack west of Paris. One afternoon at dusk, she finds the door of her stall open and–she's a curious filly–wanders all the way to the City of Light. She's dazzled and often mystified by the sights, sounds, and smells around her, but she isn't afraid.
Soon she meets an elegant dog, a German shorthaired pointer named Frida, who knows how to get by without attracting the attention of suspicious Parisians. Paras and Frida coexist for a time in the city's lush green spaces, nourished by Frida's strategic trips to the vegetable market. They keep company with two irrepressible ducks and an opinionated raven. But then Paras meets a human boy, Etienne, and discovers a new, otherworldly part of Paris: the ivy-walled house where the boy and his nearly-one-hundred-year-old great-grandmother live in seclusion.
As the cold weather and Christmas near, the unlikeliest of friendships bloom. But how long can a runaway horse stay undiscovered in Paris? How long can a boy keep her hidden and all to himself? Jane Smiley's beguiling new novel is itself an adventure that celebrates curiosity, ingenuity, and the desire of all creatures for true love and freedom.
Jane Smiley is the author of numerous novels, including A Thousand Acres, which was awarded the Pulitzer Prize, and most recently, The Last Hundred Years Trilogy: Some Luck, Early Warning, and Golden Age. She is also the author of several works of nonfiction and books for young adults. A member of the American Academy of Arts and Letters, she has also received the PEN Center USA Lifetime Achievement Award for Literature. She lives in Northern California.
!! As a reminder, if you are posting to a personal or other non-PRH account you must include the hashtag #TeamPRH !!
Posted: December 7, 2020