Jane Yolen to Share BEAR OUTSIDE via Eventbrite (3/26)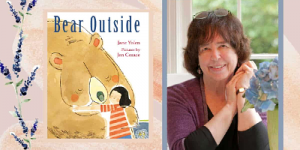 Jane Yolen, author of BEAR OUTSIDE (Neal Porter Books), will share her latest picture book as a virtual Bedtime Story hosted by Wellesley Books via Eventbrite on Friday, March 26 at 7:00 pm (ET).
In this imaginative picture book by Jane Yolen, author of many distinguished children's books including Owl Moon and How do Dinosaurs Say Goodnight, a girl explores the many ways she expresses herself by imagining that she wears a bear as her personal protective shell. They go everywhere and do everything together. The Bear is like a suit of armor and a partner all in one, protecting her from bullies and giving her strength to be bold when she needs it. In turn, she listens to and takes care of the Bear.
Jane Yolen's story beautifully portrays the relationships we have with our inner-selves, encouraging readers to stay in touch with and wear these qualities with pride. Her text is paired with the spritely art of Jen Corace, illustrator of Little Pea, Small World, and Brave Jane Austen.
Jane Yolen is one of the most distinguished and successful authors for young readers and adults in the country. She is the author of close to 400 books—including Rum Pum Pum with Holiday House, Briar Rose, Sister Light, Sister Dark; Owl Moon, and The Devil's Arithmetic. Her books have won awards including the Caldecott Medal, two Nebula Awards, the World Fantasy Award, the Jewish Book Award, and two Christopher Medals. SFWA named her the 2017 Damon Knight Memorial Grand Master for her contributions to the literature of Science Fiction and Fantasy. She lives in Hatfield, Massachusetts.
!! As a reminder, if you are posting to a personal or other non-PRH account you must include the hashtag #TeamPRH !!
Posted: March 24, 2021