Janet Evanovich Celebrates Launch of 25th Stephanie Plum Novel with Hundreds of Fans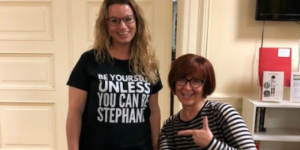 Last week, #1 New York Times-bestselling author Janet Evanovich, celebrated the launch of her milestone 25th Stephanie Plum novel, LOOK ALIVE TWENTY-FIVE, published by Putnam on November 13.
At the Mark Twain House and Museum, offsite at the Immanuel Congregational Church in Hartford, CT, several hundred fans gathered for the opportunity to meet Evanovich, many driving for hours and coming from as far away as Toronto, Rhode Island, and, of course, all parts of New Jersey, to be in the company of their favorite Jersey Girl.
At the event, Janet spoke in conversation with Hartford Courant columnist Gina Barreca about her career, beloved characters, and the value of fun escapist fiction that "won't make you want to cry or tear your hair out," for which she received a standing ovation.
In Evanovich's LOOK ALIVE TWENTY-FIVE, Stephanie Plum faces the toughest puzzle of her career. There's nothing like a good deli, and the Red River Deli in Trenton, New Jersey is one of the best. World-famous for its pastrami, cole slaw, and for its disappearing managers. Over the last month, three have vanished from the face of the earth, and the only clue in each case is one shoe that's been left behind. The police are baffled. Lula is convinced that it's a case of alien abduction. Whatever it is, they'd better figure out what's going on before they lose their new manager, Ms. Stephanie Plum.
Posted: November 21, 2018